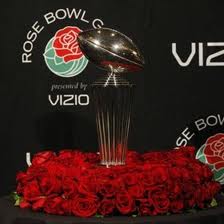 "You guys can do better than that," announcer Don Essig implored to the Matthew Knight Arena crowd, which had already been cheering joyously for the Oregon football team as its players gathered at midcourt during halftime of Saturday's basketball game against UCLA. "That's your Pac-12 and Rose Bowl champion!" And with that, the crowd really roared to new eardrum-piercing heights.
I mention this not to reprimand the Matt Knight Arena crowd for under-cheering, but as a way of expressing a larger idea: that if, as novelist Wilfrid Sheed writes, sport is "a code, a language of the emotions," then I have more to let loose. This Rose Bowl win is just too meaningful not to celebrate a little longer.
The only problem is, the thoughts that led up to this moment of release are inevitably different now as rumors spread of Chip Kelly's departure. Is he going? Is he staying? Thankfully this time, it looks like he's decided to stay. But either way, does it change how much the Rose Bowl means? On the contrary: such volatility, and its reminder of how far Oregon has come, only makes the meaning and importance even greater.
It has now been three weeks since the Ducks tasted victory in Pasadena. Yet the Rose Bowl euphoria has remained with us, and even now amidst Kelly's near-departure, we should not be quick to let it go. After waiting 95 years for victory in the Granddaddy of Them All, we Oregon fans shouldn't be hasty in continuing to release a primal scream of joy, catharsis and relief.
Darron Thomas and LaMichael James may have played their last game wearing the gladiatorial mallard wings on their jerseys or a visor with the "O" of Oregon. Fans may already be speculating about where we go from here. Sport itself is meant to consist of agony, ecstasy and then moving on: to the next game, the next season. "Turn the page," is a common mantra as we continue on from triumph and tragedy alike.
But regardless of what the future holds, all I want to do is go back and keep watching that game.
First there was the constant jabbing in the first half, where Oregon refused to lose a step to a prolific Badgers offense and opportunistic defense. At one point at the close of the first quarter, Wisconsin had the chance to take a 21-7 lead. Russell Wilson had moved the team in red and white, already ahead by a touchdown, into Oregon territory.
Yet as they've done for so many years now, Nick Aliotti's defense bent but would not break. Wisconsin punts, Oregon is pinned way back at their own 9-yard line, and…BOOM! De'Anthony Thomas sprints untouched to the goal line. Wisconsin painstakingly drives downfield to again break the deadlock with a touchdown of their own and…BOOM! Darron Thomas hits Kenjon Barner for a 54-yard score on the Ducks' first play from scrimmage. In the second half, the jabbing gave way to a few key body blows and hay-makers delivered by the young men in green and silver. Oregon finally took its first lead of the game with…guess who? De'Anthony Thomas goes untouched again, this time from 64 yards. Chip Kelly's team was making it look ridiculously easy to score, and the parity-dominated NFL couldn't help but take notice.
Come the fourth quarter, they would not break. The play of the game turned out to be what I'm choosing to call the "Hand of God Fumble". I'll never forget my mystified father, an Oregon grad raised in Eugene, saying time after time, as if to remind himself that it actually happened, "The ball just sat there. It just sat there!"
When the game was over, it was the euphoric moment I and so many other Duck fans had waited for. Pouring with sweat and shivering with chills only seconds before, I leaped in the air, bouncing like a pogo stick from the living room into the hallway and then crashing into the bathroom cupboard, all the while with my arms thrust skyward, screaming, "We did it! We did it! We did it! We won the Rose Bowl! We won the Rose Bowl!"
But then as quickly as I had erupted with euphoric primal screams, now as I skipped back into the living room for another glance at the TV and the celebration unfolding on the Oregon sideline in Pasadena, before I quite knew what was happening I had collapsed onto the floor in tears, like a Wimbledon champion or a sack of potatoes.
Tears rolling down my cheeks like the first cracks in a dam, giving way to blubbering sobs, it hit me that this wasn't just the euphoria of winning the Rose Bowl for the first time in 95 years, amazingly stupendous as that was. The victory was also, at long last after nearly a year, a moment of absolution for the lost national championship game the year before. All this autumn, ironically given how 2011 turned out to be a magical season, I had approached the Ducks' campaign without my usual enthusiasm. I was still mourning the BCS near miss against Auburn for all the marbles. Finally, as the clock hit zero in Pasadena and members of the team hoisted the Rose Bowl trophy, it was time to bury the past and celebrate the moment.
Every college football season is a house of cards. The slightest slip-up can cost a team all the thousands of hours of practice and all the years of boyhood dreams that have gone into getting there. Maybe winning the Rose Bowl isn't as much of an accomplishment as getting to the national championship game, even if you lose said championship on the last play. But there is a whole lot to be said for a happy ending, and that Oregon belongs to a conference whose champion feeds into the Rose Bowl gave the Ducks a chance to do the one thing that could erase the frustration of Glendale the year before. We all know that the Rose Bowl is special. It may not be a national championship, but it is the poster child for all the pageantry and tradition that makes up the DNA of this game.
While writing this post, I heard a Frank Sinatra song on the radio—"Days of Wine and Roses"—that reinforced the meaning of this post-Rose Bowl moment. "Just a passing breeze, filled with memories," Sinatra called it. We always knew as Duck fans, I think, that Chip Kelly is a uniquely brilliant coach but that he  flyies his chariot mighty close to the sun. Even if he stays this time, his may not not be destined to be the long run his predecessors had. Regardless, the Kelly era has produced a trophy of a lifetime, a Rose Bowl win, and instead of worrying about the future I'm going to cherish that victory once more. Even the brightest futures can collapse, and even the darkest futures have light. One thing we know, is that the permanence of a Rose Bowl crown is something to cling to and to cherish passionately. Even if we have a spectacular house of cards still standing today, it will likely come down, as they all do, sooner or later. Which is all the more reason that Don Essig was right: no celebration of that victory, and the run of the last three years, is ever enough.

NEW ANNOUNCEMENTS
Whoa!  Where are all the articles? What happened to FishDuck.com? Learn more by clicking here!
Do your part and contribute to the new Oregon Football Repository at FishDuck.com that we will build with enough support. It will be a gift to all Oregon fans!  Learn more by clicking here.