***WARNING***
The material you are about to read is designed and created for FishDuck.com contributors only!  Any accessing of this time-sensitive and lucrative content by unauthorized persons can result in criminal prosecution, incarceration, and (in rare cases) your immediate and complete disembowelment. To gain access to the following column look to your right, and click the yellow button,  Proceed to write an EXTREMELY large check to FishDuck.com.  There will be no further warnings!
Now that only the elite of the elite are here I have some valuable information, just for you.  This time of year is about pageantry, bands, tailgating, and the great game of football, played by student/athletes from coast to coast.  That's what I tell my neighbors.  You and I know something else, though.  It's also the time of year for hauling in a pile of Presidents with some cogent beating of the point spread.
Everyone knows the obvious stuff.  Oregon went 2-0-1 against the spread (ATS) and 3-0 straight up (SU) last year when playing at home, with the total >= 59, after losing the previous game ATS.  Child's play.  Every middle-schooler with Wi-Fi and an account with Bovada knows that.
But for you, contributor of extreme largesse', we have some things that very few know.
This season may be more of a challenge and it's Erin Andrews' fault.  The Ducks covered the number to the tune of 77% of the time when the fetching Ms. Andrews patrolled the sidelines.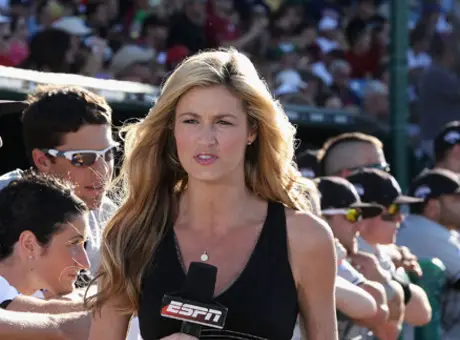 Now she has taken her talents to a studio show where she will lounge next to Joey Harrington.  *Sigh* As usual, Popeye said it best.
No matter.  The astute football gambler will go deeper into the numbers to find profit.  For example, Oregon is 13-6-1 ATS in night games. starting with…
But here is something most people don't know.   Oregon is 1-0 SU and ATS  in night games when the lights go out at Autzen.
Gamblers beware, though!  Not all betting trends are in favor of the Ducks.  Oregon is only 2-3 in games when a man named Bronco is on the other sideline.  This includes…

ANNOUNCEMENTS
I will be sending emails with links to recent articles in the near future so you don't miss any juicy ones.  We will have articles between Monday and Thursday every week, so if you sign up for the "FishLetter" with your email–no spammer will have it. (Promise)
Or send it by email to: charles@fishduck.com and I'll put you on the list.  We begin them soon.
(I will also put my thoughts in these emails/newsletters that cannot be publicly published throughout the football season as well. (Mr. FishDuck)