On Saturday, Autzen Stadium will be the furthest possible point from traditional football. The Arizona-Oregon battle will be a duel of spread offensive gurus going at it, combined with a 3-3-5 vs. 3-4 Hybrid defensive showdown.
Last year, Oregon ran all over the Wildcats in Tucson, and will be looking to do much of the same on Saturday. While Arizona will bring a tremendously different defensive scheme to the table this season, Oregon's star quarterback Marcus Mariota has yet to indicate that he won't be up to the challenge of dissecting the confusing 3-3-5 front. On the other sideline, though, is Arizona's Matt Scott, who looks to be ready to take on the lighting fast Oregon defense.
Oregon's strategy hasn't changed very much since Chip Kelly took over, as the Ducks have merely altered the aesthetics of some of their concepts. So far the system could not be more effective, and is among the tops in total yardage and rushing every season since his arrival. Adding a quarterback with elite talent takes an already elite offensive system, and makes it even deadlier. Marcus Mariota has been just that - elite; the freshman has wowed every coach, announcer, and analyst who has watched him over these past three weeks, and is poised to make a great PAC-12 debut.
I could call Mariota the best quarterback in the conference, but I'd be forgetting about Matt Scott. And USC and has a pretty decent one too.
Matt Scott is nearly identical to Mariota in regards to physical tools (tall, athletic, commanding poise inside of the pocket, deceptive speed, and a deadly arm), but the way that he is used inside of Rodriguez's offense is very different from how Mariota is used in Chip's offense.
Scott thoroughly carved up the Oklahoma State defense a few weeks ago, and most of that is due to his ability to make defenses "pick their poison." Rodriguez has always been known for using his personnel extremely well, and as expected, his best playmaker is given the most opportunities.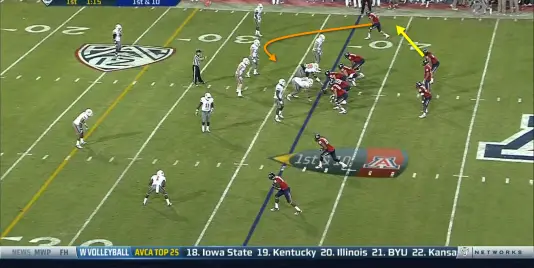 Rodriguez gave Scott plenty of easy reads throughout the game. Here is the Scat play, which is one of Oregon's staples as well.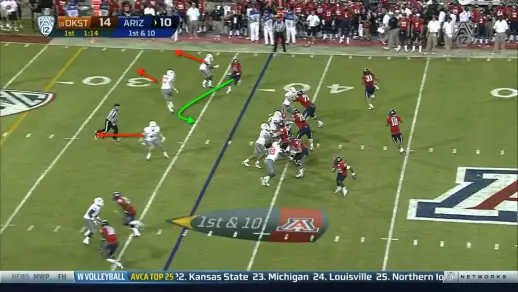 Scott anticipates zone coverage from OSU. The linebacker quickly drops into his curl-flat zone, turning his shoulders to the sideline.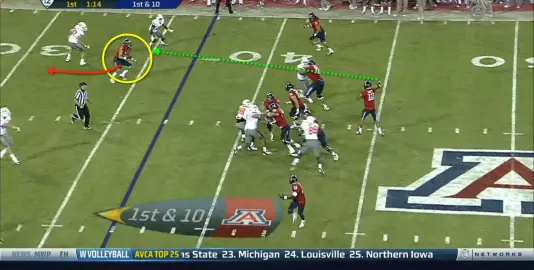 Scott and his receiver execute perfectly. The receiver sits down in between the two zones, and leaves plenty of room to run up the seam after the catch. Oregon loves zone blitzes, which are negated by efficient quick passes; something Scott and his receiving corps have down pat.
When the Wildcats spread the field, they have repeatedly gone back to empty sets, giving Scott wide passing lanes, and running lanes as well. In this play, the offensive line only needed one block to spring Scott, indicating that the Cowboys would rather recover to a QB run than let Scott throw the ball close to the goal line.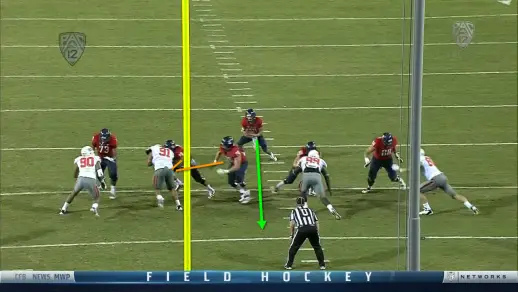 The only problem is, Scott is quick enough to make it hard to track him down in the open field. He hit the hole hard and ran into the endzone with ease against an empty box.
When a QB can run between the tackles, goal line defenses tend to overcompensate for multiple scoring threats in the backfield. On this goal line play, OSU finally stacked the box against Scott. Rodriguez dials up the perfect play-action pop pass in response.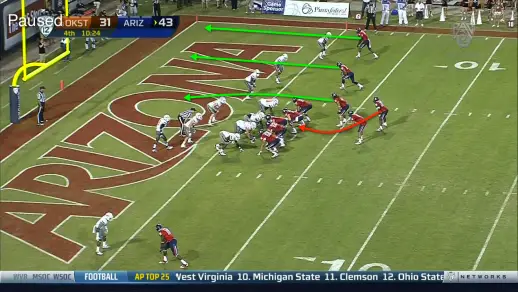 The defense is extremely focused on stopping Scott and his running back in the box, leaving single coverage on all three receivers to Scott's front-side. The real read comes in the green circle, as Scott determines whether to pop the ball up for his receivers or his H-Back. The defender has plenty of choices to make: stop the run, stop the inside route, or stop the outside route.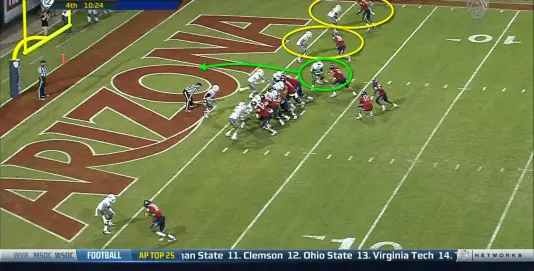 Unfortunately for the defender, he guesses wrong, and lets the H-Back leak into the endzone. When Scott throws the ball, he ends up having two receivers wide open in the endzone.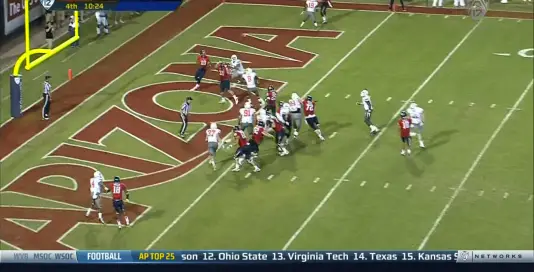 It goes without saying, Oregon's defense will have their hands full with Scott and his numerous weapons. Hopefully they'll play sound enough fundamentally to slow down what looks to be an extremely dangerous Arizona team. As for the Wildcat's defense holding the Ducks back enough to give Scott a shot at the upset? We'll have to hold off on that prediction.

NEW ANNOUNCEMENTS
Whoa!  Our article schedule is changing! Learn more by clicking here!
Have you learned more football at this website?
Do your part and contribute to the new Oregon Football Repository at FishDuck.com that we will build with enough support. It will be a gift to all Oregon fans!
Learn more by clicking here.