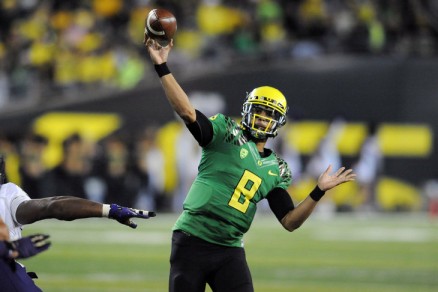 In August, if someone said the Oregon Ducks would be undefeated at the halfway point of the season, chances are no one would have blinked. With a paper-thin non-conference schedule, and conference bottom dwellers to open PAC-12 play (plus five of the first six games at home), anything less than perfect would be viewed as a gigantic failure.
So, what now?
With three games remaining against ranked opponents (potentially four if ASU jumps in this week), the Ducks schedule is about to get a major upgrade in talent, with four of the final six being played away from the comfy confines of Autzen.
Starting with a tricky Thursday night tilt with the Sun Devils, Oregon sits in the driver's seat to the national title game. The November 3rd showdown at USC, while still the biggest challenge, is not the only game that could derail the Ducks drive towards its title.
Oregon State, suddenly surging to a 5-0 start, look to be a complete 180 from the team that struggled to a 3-9 finish last season. Despite losing quarterback Sean Mannion for the foreseeable future, it's the Beavers defense that could give the Ducks trouble, and the game will be at Reser, which has proven a tough place for Oregon to play over the years.
The Ducks also travel to Cal on November 10th, and must face the hangover effect of the game against the Trojans just a week before. Throw in a top-25 home game against Stanford, and significant challenges await these young Ducks.
Oregon, which is averaging 52 points per game, has glided trough the first half of the season with such ease that it's almost as if a 25 point win is viewed as a letdown. Two weeks ago, after their 51-26 win over Washington State in Seattle, most of the focus was on the offensive line, which struggled (in fans eyes) to open holes.
Marcus Mariota, just a redshirt freshman, had just thrown two interceptions and seemed to be partially rattled amidst the very pro-Cougar crowd.
Oh, did I mention … Oregon racked up 469 yards, 300 of them coming on the ground.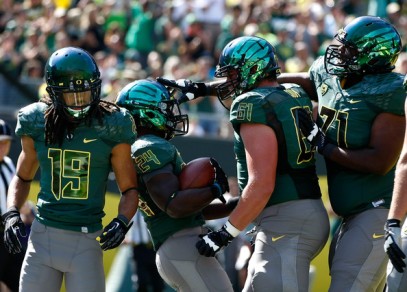 Success breeds success, but it also breeds unrealistic expectations. Oregon fans cannot forget where this program was just a decade ago, when eight wins would have been considered a great season.
Sure, the run under coach Chip Kelly has been almost mythical. His 40-6 record through 3-½ season is stuff of legends and cannot be overlooked.
But things can turn quickly, and that cannot be forgotten as the treacherous schedule begins next week.
If Mariota struggles, the season is not a waste. If the offensive line does not gel, the sun will still rise tomorrow. The defense, so stellar this season, could have an off night, which is allowed.
Heading into the season, I called Oregon a 10-win team. With the schedule, and a team so reliant on freshmen and sophomores, mistakes are going to happen. Penalties and turnovers have been prevalent so far, but with the schedule being so easy, they have not factored into any games.
So many variables can come into play in college football, that fans must keep a level head and just enjoy what is happening. This team is young, and getting better by the week. What the rest of the season has in store, we don't know yet.
One thing is for certain … if the Ducks can make it through the next six weeks unscathed, they will no doubt go down as the best team in program history.
The first six weeks were easy. Now, the real test begins.

NEW ANNOUNCEMENTS
Whoa!  Where are all the articles? What happened to FishDuck.com? Learn more by clicking here!
Do your part and contribute to the new Oregon Football Repository at FishDuck.com that we will build with enough support. It will be a gift to all Oregon fans!  Learn more by clicking here.