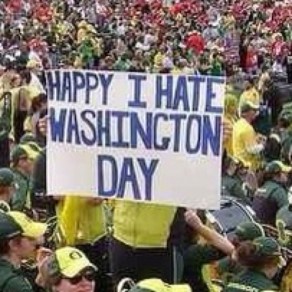 To say that Washington week elicits a reaction from Ducks would be an understatement. While some say that Oregon's in-state competition is the biggest rival, any true Duck fan knows that simply is not the case.
The fact the Oregon has owned the Huskies, riding an eight-game win in the series, only adds to the hatred coming from the foes from the north.
For the current group of players, do they understand the bitterness and pure hatred that exists amongst the fan bases?
Just to give a little perspective, the last time the Huskies defeated Oregon, De'Anthony Thomas was 10 years old. Sort of puts a little water on the rivalry flame, doesn't it?
Whether or not the players and coaches feel it's a rivalry worth talking about, the fact remains that Washington enters Autzen tonight fresh off a victory over a top-10 foe in Stanford, riding high on momentum.
Oregon, meanwhile, looks to be turning the corner following a 51-26 victory over Washington State, where they outscored the Cougars 28-7 in the second half. The offensive line, which has been as inconsistent as any group this year, had their best stretch of ball for the year in that half, much needed after a dismal performance in the 2nd quarter.
The matchup that is getting the most attention heading into the game is clearly the Husky defense, directed by former Duck Justin Wilcox, versus the Oregon offense.
Being Husky week, there are more storylines than could ever be talked about, but three big things will help shape the outcome tonight:
THE WILCOX FACTOR
It might seem odd, but it's safe to say the biggest thorn in Chip Kelly's side since he took over at Oregon may in fact be a former Duck himself.
Justin Wilcox, who roamed Oregon's secondary so famously in the late 90's, first came in contact with Chip in 2008, when, as the defensive coordinator at Boise State, Wilcox's team shut Oregon down for the first three quarters before eventually getting the upset at Autzen.
In 2009, things went from bad to worse.
The stage was set beautifully for the start of Chip Kelly's career as head coach at Oregon. Under the lights at Boise, however, Oregon was completely dominated by the Broncos defense, scoring only 8 points in a humiliating loss; the offensive output the worst to date in Kelly's tenure.
Chip's squad got some redemption in 2010, when Oregon defeated an overmatched Tennessee team, led again by Wilcox. Tonight may be the closest indicator of how good Justin is as a coach, as this Husky team possesses the talent to hang with Oregon, but is not as good as the Boise team in 2009.
VICTORIES COME AND GO WITH MARIOTA
It may seem redundant to say Mariota will be a key factor in how the game plays out tonight, but there is simply no telling what will happen when Marcus is out there.
Through five games, Mariota has been what the coaches expected: He's completing 68% of his passes, with 11 touchdowns and 4 interceptions. He's been sometimes spectacular, sometimes flustered, but mostly good. If he plays like a freshman, Oregon could finally be in trouble. Washington's defense is too good for mistakes to happen. If he continues to improve his decision-making and has a big game, there is simply no way the Huskies can hang with Oregon.
It's clear: If Mariota doesn't shoot himself in the foot, the Ducks will be fine. Struggle, and the direction of this season could drastically change.
ATMOSPHERE
It's been an odd year so far at Autzen Stadium, normally the most electric stadium this side of Baton Rouge. Whether it's the lack of competition, or fans getting used to seeing Oregon drub another opponent, there has been a lack of juice in the air come kickoff time.
The answer to that problem? Bring the Huskies to town.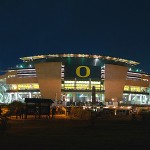 A 7:30 kickoff against the most bitter of rivals, who finally have a chance of winning? If that doesn't make the home crowd giddy, nothing will.
Autzen Stadium has been home to many great moments over the years, and seems to have a magical power when things seem their gloomiest. Hopefully, no magic will be needed tonight. It would be a sweet sight to see the crowd truly get behind this team, and not sleep walk through the night.
                     WHEN OREGON HAS THE BALL
At this point in their battles, there will be no surprises when Oregon has the ball.
"Literally, the ref is trying to put the ball down and the center is trying to snap it. It happens that fast," Said Justin Wilcox. How successful Oregon will be at that depends heavily on their ability to avoid penalties and turnovers, a problem that has plagued them (primarily the offensive line) so far  this season.
The team seemed to gel on the offensive side of the ball in the second half last week, as holes opened up for Kenjon Barner, who is 10th nationally in rushing at just over 121 yards per game.
Washington's defense is 2nd overall in the conference, allowing just 19 points per game, and are coming off a dominating performance against Stanford. Oregon's offense, averaging 52 points per game, will not scare the Husky defense, which has already faced two top-10 teams this season (LSU & Stanford).
The Huskies are led by corner Desmond Trufant, younger brother of NFL-er Marcus Trufant. Desmond leads a rejuvenated defense, hell-bent on redeeming themselves after giving up over 450 yards per game last season. This Husky unit is built a lot like Oregon–smaller, faster athletes. They have moved safeties to linebackers, and linebackers to defensive end. Look for the Huskies to try and attack Mariota as much as possible to try to rattle the young quarterback's confidence.
Oregon's offensive line should look to ride their momentum against the undersized Husky d-line. Byron Marshall, a non-factor in two conference games, should get some run,  keeping a fresh back in the game to wear down this tough Washington defense.
WHEN WASHINGTON HAS THE BALL
Despite their early season struggles (the Huskies are averaging just 23 points per game and are ranked 100th or worse nationwide in both passing and rushing yardage), Keith Price, the pre-season Heisman candidate, is still incredibly dangerous. Washington is feeling the effects  of losing their main star in running back Chris Polk, who almost single-handedly carried them last season.
Price, who got his first career start in Eugene in 2010 while filling in for an injured Jake Locker, is a threat with his legs and feet. The problem is, Oregon faces the same threat everyday in practice.
Oregon's defense, which got a lot of praise entering the season, has been simply phenomenal. Oregon is giving up 19 points per game, despite facing more plays per game than almost any other team. Led by linebacker Michael Clay, Oregon has been especially stingy on the ground, holding the Cougars to -8 yards last week and registering seven sacks.
The secondary, despite facing constant pressure, has been spectacular as well, with three interceptions returned for touchdowns in the last two games.
Washington seems to be a team without an identity at this point. Are they a passing team, or a running team? They have one of the best tight ends in the country in Austin Seferian-Jenkins, but outside of him they seem to be lacking the weapons needed in a Steve Sarkisian offense. Oregon's defense seems to have the upper hand at all levels, and with the noise factor at Autzen, it seems an impossible task for the Huskies to gain any traction.
FINAL SCORE PREDICTION
This will be Oregon's biggest test of the season to date. Washington is much improved, and has a swagger about them that has been missing the better part of the millennium. The defense will keep the Huskies in it; they have the speed and scheme to keep Oregon from running away, but the offense will simply not generate enough points to pull any upsets.
This one will be closer than the rest, but at the end of the day, the winning streak over the hated Huskies will continue.
Final Score:
OREGON: 38 WASHINGTON: 21

NEW ANNOUNCEMENTS
Whoa!  Where are all the articles? What happened to FishDuck.com? Learn more by clicking here!
Do your part and contribute to the new Oregon Football Repository at FishDuck.com that we will build with enough support. It will be a gift to all Oregon fans!  Learn more by clicking here.