It was our first chilly morning at the Casanova Center, and unfortunately for the players, it was also ice-bath day… that did not look or sound fun. Anyways, the biggest non-story of the year made its way into the post-practice routine: USC cheated (again) by deflating game balls, also, it's total rediculousness to think that the student manager acted alone.
Chip responded ever so quickly when asked about the situation saying, "They can do whatever they want. It's not a big deal to us." It sure didn't help SC's defense, that's for sure.
He also responded to recent stirrings about his aggressiveness on 4th down. Essentially, Chip's process takes mathematics into account, but ultimately, the decision to "go for it" is more about the players and their abilities. Mathematically, keeping your offense on the field on every fourth down is better for your team in the long run. But as Chip indicated, "it's not about the long run, it's about this particular play." Coach Kelly went on, explaining how in the final drive of the 2012 Rose Bowl, he knew that his team could pick up the first down, but he also knew that Wisconsin wasn't going to drive down the field on Oregon's defense in less than a minute.
No injury updates today, as we didn't get a chance to see Remington, Jordan, or Alonso, so any news on their status is pure conjecture as always.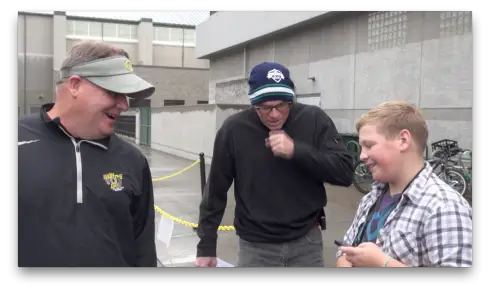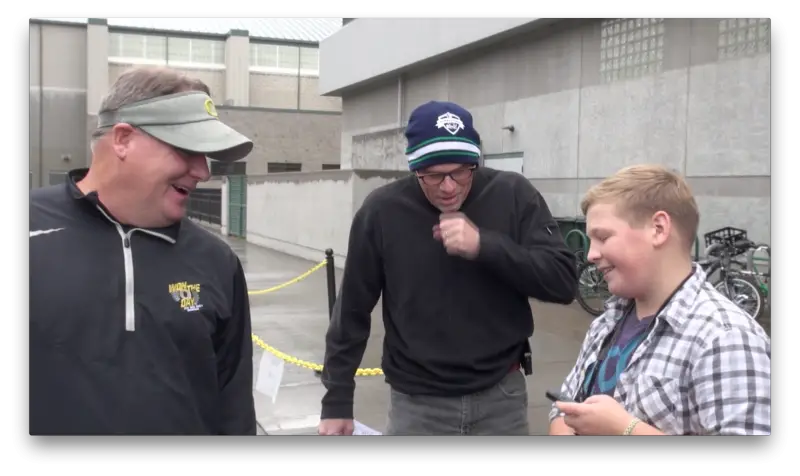 At the end of Chip's interview, we had a chance to see his lighter side for a moment, as a young reporter, from a local middle school, Henry, came out to cover practice today. Chip tried to get a question out of him, but he decided to, "leave it to the professionals." (I'm still intimidated, so I don't blame him!) Henry met with Kenjon Barner as well, and I hope he had a great time at practice today.

NEW ANNOUNCEMENTS
Whoa!  Where are all the articles? What happened to FishDuck.com? Learn more by clicking here!
Do your part and contribute to the new Oregon Football Repository at FishDuck.com that we will build with enough support. It will be a gift to all Oregon fans!  Learn more by clicking here.