As hundreds of thousands of hearts sank to the bottom of their chests last Saturday night, the realization of reality set in for Duck fans everywhere: Life as we know it, was different.
No longer were our beloved Ducks among the immortal, but they in fact were human as the rest of us. As the masses watched on in disbelief, a sudden thought rolled throughout the hearts of the green & yellow blooded…
Life was going on as normal.
As a Duck fan (I'm breaking the first-person journalism rule here; spare me the comments) I was hit as hard as anyone with what my eyes witnessed as Maldonado's kick clanked off the left goal post, sending Oregon to a disgusting 10-1 on the season. As my eyes rested lazily upon the TV, I couldn't help but feel a sense that everything around me stood still. A tear crept toward the corner of my eye, coming dangerously close to seeing the light of day. As the lips began to quiver, I looked over to my left, where I saw my beautiful wife, uncomfortable as anyone at seven months pregnant and reality slapped me in the face:
Life as I knew it was great. No amount of losses, impending sanctions or possible coaching departures could ever change the sight of first born resting comfortably in the stomach of the love of my life.
Saturday will surely bring a rift amongst the state of Oregon, for good reason no doubt. Homes will be divided, families will be split in half and co-workers will fill each others in-boxes with jokes of the other school. The Civil War is a unique rivalry in the world of college football. Just 45 minutes separates the two schools.
It's a rivalry built on nothing more than friendly fire and for that, we should be thankful. Spend five minutes in the state of Alabama during Iron Bowl week and you will see what true hatred is all about. In Oregon, Beaver and Duck and fans not only work together, they often live together. Home are divided, but often in a loving, caring manner.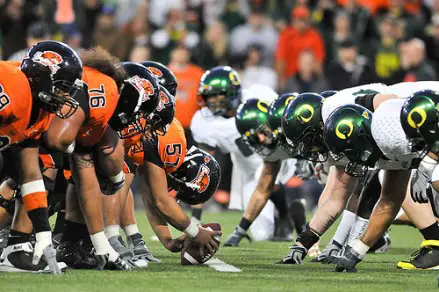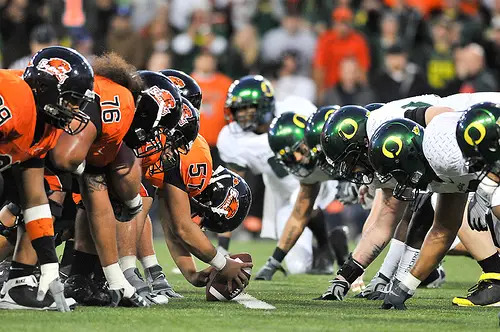 When Oregon and Oregon State line up on Saturday, root your hardest for the team of your choice. Boo the other team and laugh at their expense when the time is right. On Saturday night, however, look your counterpart in the face and shake their hand. Be thankful for the opportunity to be a part of such a special rivalry. The following day, life will return to its normal pace and we will still have the gifts that we have today.
We can still have a meaningless BCS debate about what SEC school is overrated. We can enjoy hating our rivals over a cup of coffee and know that next year it can all be done again.
Every team loses. It's a painful reality one experiences when you embrace the sporting world. No team goes undefeated year after year.
Accept the losses as a part of life and simply enjoy the successes. For Oregon and Oregon State, this is season has been truly special, no matter what happens Saturday.
I, for one, will look outward after the game and be thankful for what we have. We're college football fans and nothing can top that.

NEW ANNOUNCEMENTS
Whoa!  Our article schedule is changing! Learn more by clicking here!
Have you learned more football at this website?
Do your part and contribute to the new Oregon Football Repository at FishDuck.com that we will build with enough support. It will be a gift to all Oregon fans!
Learn more by clicking here.