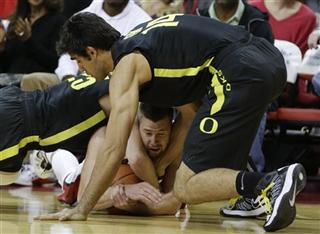 The Oregon Ducks notched another win Thursday night defeating the UTSA Roadrunners 95-78.
This was a break out game for Rice transfer Arsalan Kazemi who received his first start. Kazemi ended the game with 20 points, 6 rebounds, 4 assists, 3 blocks, and 5 steals. Dominic Artis added 16 points, Tony Woods added 15, and Waverly Austin put up 10 points respectively.
The Ducks are now 6-1 on the season. Oregon is getting closer to being ranked, sitting at 31st in the nation. The Ducks take on AR-Pine Bluff Dec. 1 at 3:30 pm PST on the PAC-12 Network.

ANNOUNCEMENTS
I will be sending emails with links to recent articles in the near future so you don't miss any juicy ones.  We will have articles between Monday and Thursday every week, so if you sign up for the "FishLetter" with your email–no spammer will have it. (Promise)
Or send it by email to: charles@fishduck.com and I'll put you on the list.  We begin them soon.
(I will also put my thoughts in these emails/newsletters that cannot be publicly published throughout the football season as well. (Mr. FishDuck)