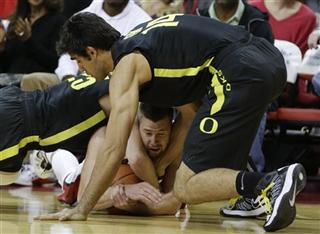 The Oregon Ducks notched another win Thursday night defeating the UTSA Roadrunners 95-78.
This was a break out game for Rice transfer Arsalan Kazemi who received his first start. Kazemi ended the game with 20 points, 6 rebounds, 4 assists, 3 blocks, and 5 steals. Dominic Artis added 16 points, Tony Woods added 15, and Waverly Austin put up 10 points respectively.
The Ducks are now 6-1 on the season. Oregon is getting closer to being ranked, sitting at 31st in the nation. The Ducks take on AR-Pine Bluff Dec. 1 at 3:30 pm PST on the PAC-12 Network.

NEW ANNOUNCEMENTS
Whoa!  Our article schedule is changing! Learn more by clicking here!
Have you learned more football at this website?
Do your part and contribute to the new Oregon Football Repository at FishDuck.com that we will build with enough support. It will be a gift to all Oregon fans!
Learn more by clicking here.