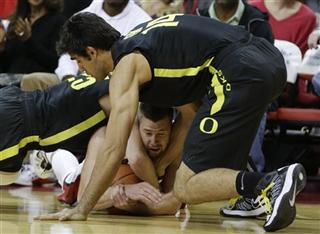 The Oregon Ducks notched another win Thursday night defeating the UTSA Roadrunners 95-78.
This was a break out game for Rice transfer Arsalan Kazemi who received his first start. Kazemi ended the game with 20 points, 6 rebounds, 4 assists, 3 blocks, and 5 steals. Dominic Artis added 16 points, Tony Woods added 15, and Waverly Austin put up 10 points respectively.
The Ducks are now 6-1 on the season. Oregon is getting closer to being ranked, sitting at 31st in the nation. The Ducks take on AR-Pine Bluff Dec. 1 at 3:30 pm PST on the PAC-12 Network.

ANNOUNCEMENTS
Want to have fun writing or editing articles about our Beloved Ducks? We have openings for just a few volunteer writers and editors and it is typically just 3-5 hours per week.
Learn more by clicking here.