WACO, Texas – University of Oregon's Kenjon Barner reaped yet another reward for returning to school for his senior season as he was named a first-team running back on the 2012 AFCA FBS Coaches' All-America Team as announced Wednesday by the American Football Coaches Association.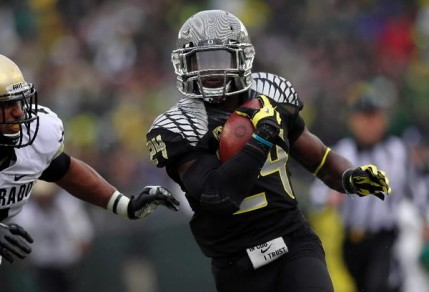 It marks the third year in a row an Oregon running back has received the honor as Barner's former teammate, LaMichael James, was chosen to the team as a running back his sophomore season in 2010 before duplicating the feat as an all-purpose back a year ago.
Barner was named to the Pac-12 Conference all-league first team earlier this week and is one of three finalists for the Doak Walker Award, given to the nation's top running back.
The Riverside, Calif., senior has run for 1,624 yards and scored 22 touchdowns this season to rank fourth in the country in rushing (135.3 avg.) and sixth in scoring (11.0 ppg). He also rates second nationally in TDs scored while ascending to second on the Ducks' all-time single-season scoring list (132 points) and fourth on the one-year rushing ledger. Barner eclipsed the 100-yard rushing plateau in seven of 12 appearances this season and ran for 195 yards or more four times, including a career-high 321 yards (and five touchdowns) at USC.
Only the SEC placed more players (8) on the All-America team than the Pac-12's six representatives.

ANNOUNCEMENTS
I will be sending emails with links to recent articles in the near future so you don't miss any juicy ones.  We will have articles between Monday and Thursday every week, so if you sign up for the "FishLetter" with your email–no spammer will have it. (Promise)
Or send it by email to: charles@fishduck.com and I'll put you on the list.  We begin them soon.
(I will also put my thoughts in these emails/newsletters that cannot be publicly published throughout the football season as well. (Mr. FishDuck)