When the fallout cleared from USC's pseudo-return to college football last year, Oregon had the benefit of playing a disparaged Oregon State squad in Autzen Stadium. Right from the get-go, Sean Mannion threw a pick straight into an Oregon defender's hands, the Ducks scored on the ensuing possession, and the rest is history. Unlike last year, the biggest problem for Oregon this week won't be overcoming the hangover effect after they were bounced from the national title game a week before, it will be the team they are facing. Mike Riley pumped some, "Beaver Juice" into the program, and made OSU into a contender again (just two weeks ago, OSU controlled its destiny to the Rose Bowl).
The big question everyone is asking is, "Can OSU duplicate Stanford's performance?" The best answer would be no, since Stanford's defense was practically crafted to stop Oregon's offense. However, Oregon State can mimic Stanford's gameplan which could cause problems for Oregon's offense.
Earlier in the year, Oregon State played UCLA and, at the time, the nation's leading rusher Jonathan Franklin. The Beavers shut down Franklin and the Bruin rushing attack and ended up winning against a very good UCLA team. The tactics OSU used in that game should bring back some bad memories from last Saturday for Duck fans.
Thanks to our good friend Chris Brown at SmartFootball.com, we know that Stanford's linebackers used a standard anti-option alignment by standing as far as six yards behind the line of scrimmage to counteract the quick misdirection in the Oregon backfield. Oregon State did the same thing to UCLA throughout their matchup. In the picture above, UCLA is running its bread-and-butter power play, with the right guard pulling to his left. The Beavers are lined up in a very basic four man front.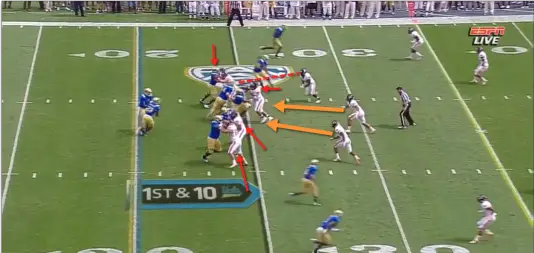 When the ball is snapped, Oregon State's defensive line does exactly what is asked of them, and takes up a bunch of blocks for their linebackers. Each red arrow (above) is pointed to a Beaver lineman that is engaged with their blocker, and four of the five linemen are already in contact with their defender. Two OSU linebackers, indicated by orange arrows, take their advantage in timing, and are already headed inside to stop the run.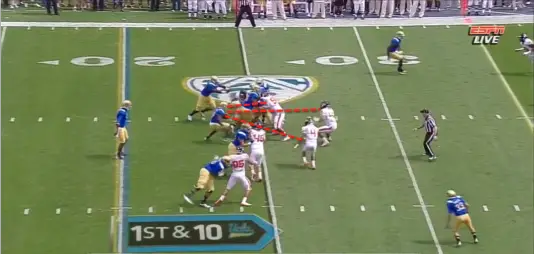 When Franklin reaches the line of scrimmage, he has nowhere to go, as three defenders are already on top of him in the screenshot above.
Stanford did the same thing to Oregon; they ate up blocks at the line of scrimmage, then let their linebackers make plays in the backfield. UCLA's offensive line has come along way since then, of course, but if Oregon State can hold Oregon's linemen to the first level, the Ducks will run into the problems they faced last week.
That is, unless Marcus Mariota has found his stroke again. There were multiple times throughout the Stanford game that Mariota either flat out missed a wide open man, or scrambled out of the pocket too early and either threw the ball out of bounds, or took a loss on a scramble. It makes sense, though, that Mariota showed his first signs of uncertainty when he faced his first elite defense.
Oregon State hasn't been burned in particular by any offense outside of Arizona and Stanford. Against the Cardinal, Oregon State was beat  few times by play action passes. It just so happens that Oregon's play action is pretty darn effective.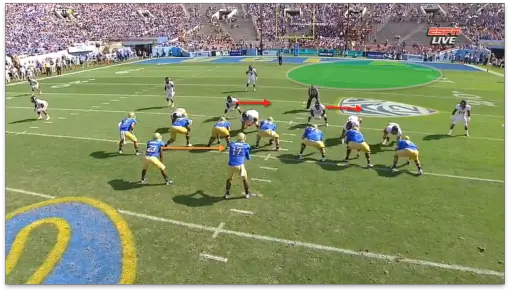 During the second half of the UCLA-OSU game, the Beavers got beat by play action despite Franklin being shut down for all intents and purpose. In the screen shot above, Brett Hundley will fake a handoff to his running back, and will drag both linebackers a few steps away from their passing lane.
As the linebackers fixate on the running back, they open up a lane for the slot receiver Bell to leak into the secondary untouched. One hallmark defensive principal is to "get hands", or bump receivers as they advance upfield to disrupt the timing of the receiver's route. With no linebackers in the area, Bell cuts right underneath the safety and into the open field.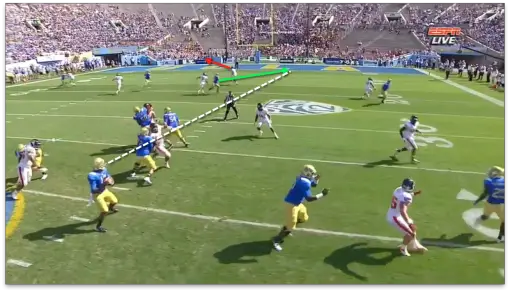 Thanks to play action, there is no pressure on the quarterback and no one to defend Bell in the middle of the field. Hundley put the ball right on the money, and the Bruins ended up scoring on that possession.
A lot of this game will depend on whether or not Mariota is back on par with his usual performance. For all intensive purposes, Oregon State will be able to stop the run right from the get go if they don't have to worry about Mariota beating them deep. He will need to be on his game from the very first possession this week, especially since Oregon State's offense will probably be able to muster a few points out of the Duck's defense in Reser Stadium.
Something tells me Oregon will be back to its usual ways this Saturday, but as always, anything can happen in a Civil War game.

NEW ANNOUNCEMENTS
Whoa!  Where are all the articles? What happened to FishDuck.com? Learn more by clicking here!
Do your part and contribute to the new Oregon Football Repository at FishDuck.com that we will build with enough support. It will be a gift to all Oregon fans!  Learn more by clicking here.