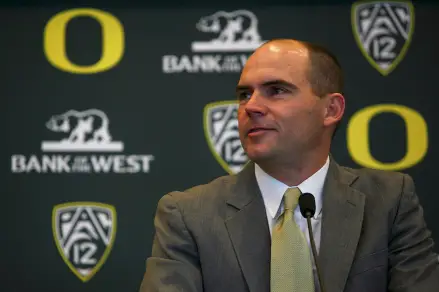 The elevation of Mark Helfrich to head coach has been met with high approval from those close to the program.  Current players admire him for the work he's done with the Duck quarterbacks in recent years.  Also, many praise him for being instrumental in implementing Kelly's fast-paced offense that has become one of the most dominant and explosive units in college football.
Helfrich has served as offensive coordinator since 2009.  His promotion marks the third consecutive time that Oregon has turned to its own offensive coordinator to fill the head coach position.
Most importantly, keeping the recruiting class intact and adding a few more pieces to the mix will be critical first steps for Helfrich to maintain the long-term success of the program.  National Signing Day is February 6th, so the staff has a lot of work to do.  However, it appears that current 2013 commits are onboard in accepting the promotion.  Four-star athlete Tyree Robinson has been committed to Oregon since last September.  He was quoted as saying, "That's the best choice for the program and the best to keep things the way they are."  Stability is an important aspect of the recruiting process for many of the young adults who are making one of the toughest decision of their lives.  Luckily, Jerry Azzinaro, former defensive line coach, was the only other departure besides Chip Kelly.
Oregon can now put the rumors of their head coach leaving for the NFL behind them and focus on taking the next step as a program.  A national championship is that next step.  With Mark Helfrich at the helm, we have the right person to take us there.

NEW ANNOUNCEMENTS
Whoa!  Our article schedule is changing! Learn more by clicking here!
Have you learned more football at this website?
Do your part and contribute to the new Oregon Football Repository at FishDuck.com that we will build with enough support. It will be a gift to all Oregon fans!
Learn more by clicking here.