Former highly recruited 4-star recruit Anthony Wallace out of Dallas, Texas, has made his plans to transfer public after two seasons for the Ducks. Wallace, a third-string linebacker, accumulated 13 tackles in limited action in 15 games. The 6'1″ 235 pound linebacker has been a bit of a disappointment for the Ducks, failing to work his way up the depth chart as expected.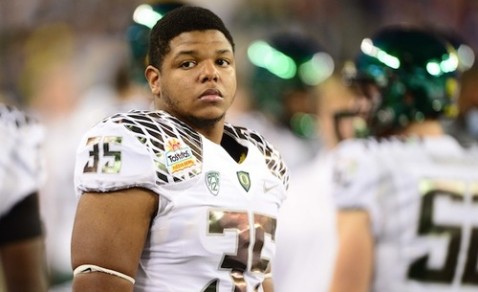 His plans come as a bit of a surprise, since Wallace was expected to see much more field time with the graduation of Michael Clay and Kiko Alonso. Wallace is not the first Duck from Texas to transfer, joining the likes of Lache Seastrunk and Tra Carson who both ended up transferring back to Texas schools.
Wallace was credited with one tackle in the Rose Bowl last year, and many are surprised that he was unable to work his way into the lineup more often, since he was a former standout at Skyline High School in Dallas and the 6th ranked linebacker in his class by Rivals.com. As a senior in high school, Wallace racked up 115 tackles and earned honorable mention All-State distinctions. Wallace is a big, powerful linebacker who will hopefully get a chance to make an impact immediately at whichever school he chooses to attend.

ANNOUNCEMENTS
I will be sending emails with links to recent articles in the near future so you don't miss any juicy ones.  We will have articles between Monday and Thursday every week, so if you sign up for the "FishLetter" with your email–no spammer will have it. (Promise)
Or send it by email to: charles@fishduck.com and I'll put you on the list.  We begin them soon.
(I will also put my thoughts in these emails/newsletters that cannot be publicly published throughout the football season as well. (Mr. FishDuck)