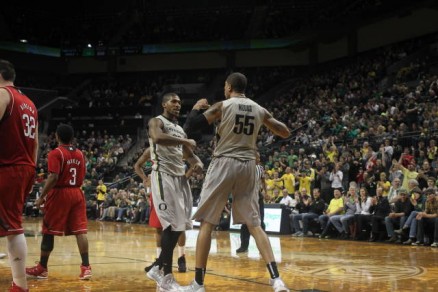 With the conclusion of another successful football regular season, finishing 12-1 and locking up Chip Kelly for (at least) another year, the last five months have seen plenty of highs for fans of the University of Oregon. Expectations are high for next season as well, when up to 15 starters return to what will assuredly be a to-5 pre-season team.
But for now, the attention needs to be turned to Matthew Knight Arena.
The fighting Dana Altman's are 12-2 on the season after Sunday nights conference opening win over Oregon State. Altman, in his third year at Oregon, has transformed this program into something we never saw under Ernie Kent: A team that wins with X's and O's rather than pure athleticism.
Altman came from Creighton with a reputation for being more nerdy than chic; a coach who will get the best out of his players — at least the ones that buy into his vision.
The first two years of his tenure were filtered between over-achieveing play and player defections. Five-star talent left after a few moths. Big-time recruits were turned of by the threat of hard work. It became evident that in order for Altman to win big, he needed to get "his guys."
Fortunately, the players who stuck around have been nothing short of inspirational.
A CBI title in year one was followed up by a semi-final loss in last years NIT tournament, where the foundation for this season was laid. A good recruiting class followed, along with returning talent like EJ Singler and Tony Woods. Expectations would be high for 2012-13.
The blistering start this season has done nothing to temper those expectations.
Oregon welcomes the fourth-ranked Wildcats of Arizona into town Thursday night in what is surely the biggest home game for men's basketball since the glory days of Aaron Brooks.
While Eugene has undoubtedly transformed itself into a football-first town, for Thursday night at least, 00–00it's time to turn the attention back to the hardwood.

NEW ANNOUNCEMENTS
Whoa!  Where are all the articles? What happened to FishDuck.com? Learn more by clicking here!
Do your part and contribute to the new Oregon Football Repository at FishDuck.com that we will build with enough support. It will be a gift to all Oregon fans!  Learn more by clicking here.