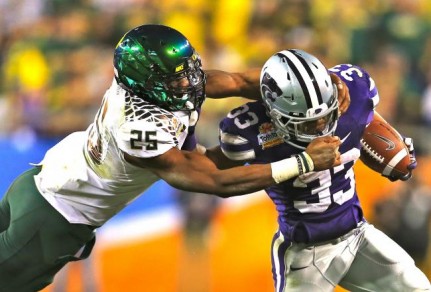 The Oregon Ducks rolled out a championship caliber defense Thursday night, as they have all season.  The depth, quality of that depth, speed, and the overall aggressiveness the Ducks defense played with this season were the keys to giving Oregon another successful BCS season.  Nick Aliotti's group overcame a plethora of injuries this year, especially in the secondary, to complement the explosiveness on the other side of the ball.  We all know the high-flying, dynamic Oregon offense is one of the nation's best and most efficient; but what separates this year's Ducks team apart from previous years was their defense, which proved this in Thursday night's Fiesta Bowl win over Kansas State.  They held Collin Klein in check with 30 rushing yards on the night, only gave up 283 yards of total offense to Kansas State, and allowed 17 points to a team that averaged just over 40 points per game during the regular season.  Most importantly, the defense came through with timely stops, especially in the first half, as the Ducks offense struggled to find its rhythm.
It would have been great to measure how this Oregon Ducks team would have fared in the National Championship game.  They were a missed field goal away, in overtime, from giving us a chance to see what this defense would truly be capable of achieving against Notre Dame on the big stage.  Nevertheless, let us always remember the 2012 Oregon Ducks defense as a championship caliber squad.

ANNOUNCEMENTS
Want to have fun writing or editing articles about our Beloved Ducks? We have openings for just a few volunteer writers and editors and it is typically just 3-5 hours per week.
Learn more by clicking here.