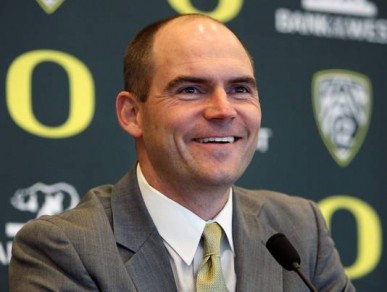 In his introductory press conference last week, new Oregon head coach Mark Helfrich said that Oregon was "the pinnacle" for him.  An Oregon native, his father played at the University.  Mark himself was a graduate assistant as a fresh faced kid out of college.  The university means something to Mark and his family.
He has ties that bond, and a skill set that is coveted.  It's a home run match for school and fan if there ever were one.
Chip Kelly will forever be remembered and cherished as the man that took an entire program to levels unbeknownst.  He had a vision, ran with it, and turned it into a better opportunity for himself.  That can't be disputed nor scrutinized.
Kelly never had ties to Oregon.  He had no family here, and no reason to stay.  Helfrich does, and that means something.
Oregon has had an unparalleled track record of keeping its assistant coaches.  From Steve Greatwood to Gary Campbell, Don Pellum, and Nick Aliotti, assistant coaches have been as attached to this program as Puddles.  Now it appears the head coach finally feels the same way.
Mike Belotti and Rich Brooks, the cornerstones of Oregon football, stayed 15-plus years each.  They built the Oregon football team from the ground up.  There was no Nike, no first-rate facilities and no rabid fan base. They spent their time schmoozing with Boosters and gaining support.  The community felt like they were one of our own.
Now, Helfrich has the same opportunity, only this time he has a much better squad to do it with.  He's been handed the keys to one of the best programs in the country.
It's nice knowing he wants to hold onto the keys for a while.

NEW ANNOUNCEMENTS
Whoa!  Where are all the articles? What happened to FishDuck.com? Learn more by clicking here!
Do your part and contribute to the new Oregon Football Repository at FishDuck.com that we will build with enough support. It will be a gift to all Oregon fans!  Learn more by clicking here.