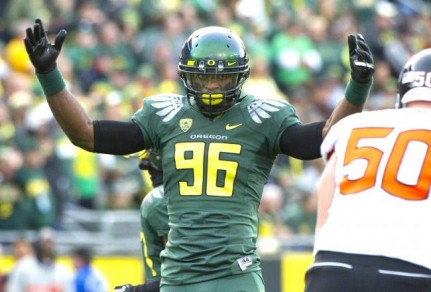 The 2013 NFL Draft will be exciting for Duck fans!  This event will be highlighted by none other than standout defensive end/outside linebacker prospect, Dion Jordan.  His 2012 senior season performance included 10.5 tackles for loss, 5 sacks, and 3 forced fumbles.  During his career, Jordan nailed 29 tackles for loss and 14.5 sacks.
Mel Kiper Jr., ESPN's NFL draft guru, lists Jordan as the 18th rated prospect.  Todd McShay, another well-known draft analyst, lists Jordan as his 12th rated player.  These are high accolades for Jordan, who started his collegiate career as a wide receiver. Listed at 6 feet 6 inches tall and weighing in at 240 pounds, he is an extremely athletic, long defender with a quick first step. He could factor in as a 4-3 defensive end or 3-4 standup outside linebacker in the NFL.  It will certainly be important for Jordan to add some size to hold up for an entire NFL season, but he reminds me of Jason Pierre-Paul, a recent first round pick for the New York Giants.
With a very high-ceiling, Jordan promises to be a huge difference maker on the defensive side of the ball.  But will he last until the 18th pick, or even the 12th?  The Tennessee Titans have the 10th pick this year and could certainly use the services of a speedy pass rusher.

NEW ANNOUNCEMENTS
Have you learned more football at this website?
Do your part and contribute to the new Oregon Football Repository at FishDuck.com that we will build with enough support. It will be a gift to all Oregon fans!
Learn more by clicking here.