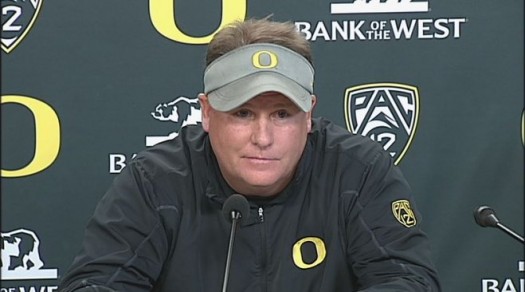 After Oregon's solid, if not unspectacular, 35-17 victory over Kansas State on Thursday, I took time to reflect on what had just occurred.
No, not the victory itself, but the overall scheme of the University and where it has come since my first time laying eyes on them in the fall of 1994.
It got me thinking about Chip, and what the program has become.
Now, Kelly is not solely to thank for the last four years. While the Blur offense and thievery defense have been the main cog in the Oregon machine, the success of the university has come from lean years, solid squads and heartbreaks.
No fan could appreciate the beauty of being in the national championship game without the stomach-turning realization that Dennis Dixon and a title shot were crumpling to the Arizona turf.  Two straight BCS wins would not be as sweet without a Seattle Bowl loss to Wake Forest that was almost too painful to type.
There were also unsung heroes to thank.
The Kevin Mitchells, Wesley Mallards, and Terrance Whiteheads deserve credit.  Jimmy Radcliffe, the longtime strength & conditioning coach needs a standing ovation.  Yes, Phil Knight needs a big pat on the back as well.
The fact remains that Oregon is in the midst of something special, and with any luck, the run is not yet over. A new generation of Duck fans have been born, with nothing but visions of success dancing in their brains.
Let's not forget the past in envisioning the future.  If Chip does in fact leave, I bet that machine keeps on rolling along.

ANNOUNCEMENTS
I will be sending emails with links to recent articles in the near future so you don't miss any juicy ones.  We will have articles between Monday and Thursday every week, so if you sign up for the "FishLetter" with your email–no spammer will have it. (Promise)
Or send it by email to: charles@fishduck.com and I'll put you on the list.  We begin them soon.
(I will also put my thoughts in these emails/newsletters that cannot be publicly published throughout the football season as well. (Mr. FishDuck)