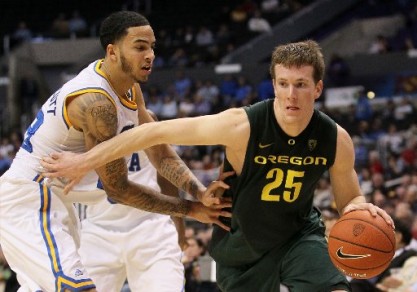 Just over halfway through their season, the Oregon basketball team is sitting pretty at 14-2 (2-0). The Ducks have been bolstered by the play of their seniors Tony Woods, E.J. Singler, Carlos Emory and Arsalan Kamezi. The last time Oregon was this deep with seniors, they were giving the Joakim Noah-led Gators of Florida all they could handle in the 2008 Elite Eight.
While coach Dana Altman's squad is relatively young, the core group of seniors is the backbone for this squad, who head to the greater Los Angeles area this weekend to take on USC and UCLA.
Oregon, who has not started 4-0 in conference play in almost 40 years, should not yet be confused with the last crop of players to make it to the big dance. The 2013 version still lacks a true go-to threat, ala Aaron Brooks or Bryce Taylor. The 2006-2007 squad had played together for four full seasons and knew each other very well. This squad, made up of transfers and hold overs, is still gelling.
That's the good and the bad.
Can the squad continue to mesh as March rolls around? Will the youngsters like Damyean Dotson and Dominic Artis be able to withstand the rigors of conference play? These questions will go a long way towards deciding the ceiling for this team.
What Dana Altman has been able to do here in two+ seasons is remarkable. With player defections and a general lack of talent, getting this team into the tournament would be a minor miracle. With the fast start, however, nothing seems impossible.
Oregon's schedule is about to ratchet up a notch in the coming weeks. A road trip to LA is a great first test to see where Oregon stands. In order to be a real contender they must win away from MKA, where they have won 18 games in a row.
With the seniors on board, you have to like their chances.

NEW ANNOUNCEMENTS
Whoa!  Our article schedule is changing! Learn more by clicking here!
Have you learned more football at this website?
Do your part and contribute to the new Oregon Football Repository at FishDuck.com that we will build with enough support. It will be a gift to all Oregon fans!
Learn more by clicking here.