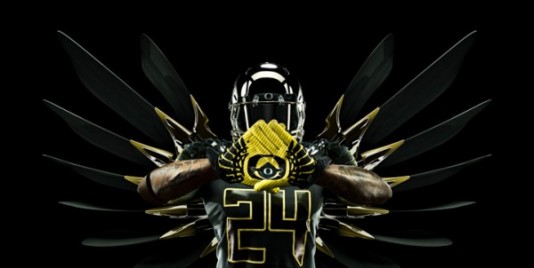 On Monday night, the Alabama Crimson Tide won their third national title in four years and fourth championship in a row, for the state of Alabama, beating Notre Dame 42-14.  This marks yet another dominant performance by an SEC team giving its conference a seventh BCS championship overall.  As great as this feat is, we can all be honest with ourselves knowing that Notre Dame had no business playing in this game.  By halftime, Notre Dame had given up more points than they did in any full game all season.  Alabama controlled the line of scrimmage on both sides of the ball and outclassed Notre Dame in every aspect of the game.
After watching the bowl games this season, it is apparent to me that the only team that had a shot of dethroning the SEC would have been the Oregon Ducks.  Their speed and tempo would serve as a great contrast to the slower, more physical style of Alabama.  Oregon possesses the skill position players to match up well with Bama, on both sides of the ball.  I believe that the Crimson Tide would have problems stopping the inside zone read and spread attack that creates so much space and opportunity for the Ducks very talented quarterback, running backs, and wide receivers.  The Oregon tempo would have forced Alabama to take more chances on defense and substitute lesser players in the game to keep fresh players on the field.  Defensively, the Ducks would have to load up the box to stop the run and get a consistent push with their defensive line.  Oregon's secondary is much better than Notre Dame's secondary; leaving the Ducks with a better chance of slowing the Crimson Tide passing attack when loading the box.  Would this work, Duck fans?  We will never know.  What we do know is this 2012 Oregon Ducks team deserved a shot and was a missed field goal away from having the chance to be proven right.

NEW ANNOUNCEMENTS
Whoa!  Our article schedule is changing! Learn more by clicking here!
Have you learned more football at this website?
Do your part and contribute to the new Oregon Football Repository at FishDuck.com that we will build with enough support. It will be a gift to all Oregon fans!
Learn more by clicking here.