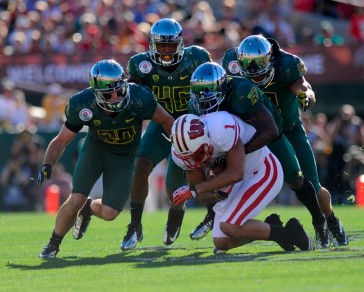 It is easy to become bogged-down with many pieces of statistical data when analyzing two different teams; no matter the sport. However, when breaking down the numbers, for both Oregon and Kansas State, in terms of this Thursday's Fiesta Bowl, one number jumps off the page that screams what Oregon must do on defense to have success against Collin Klein and the run-heavy K-State offense.
51. In Kansas State's only loss this season, to the Baylor Bears, Collin Klein attempted 51 passes, compared to his season average of 21. That is exactly 30 more pass attempts than his season average! In looking at the statistics of the Kansas State offense, or just simply watching any game of theirs this season, it is apparent they have a "run first" philosophy predicated on Collin Klein's combination of physicality, size, and speed to break down the front seven of the opposing defense with his legs. Baylor was successful at loading up the box and forcing Klein to throw the ball downfield, which is not his forte. Collin Klein makes Tim Tebow look like Tom Brady, when comparing throwing motions, if this gives you any indication of why Oregon must load the box and force Klein to beat them through the air. In the Baylor game, Klein had 3 of his season total 7 interceptions. This proves that making Kansas State a one-dimensional passing attack would likely result in turnovers and a low third-down conversion rate for the Wildcats equaling more possessions for the Ducks. We all know that more possessions, for an Oregon offense, would only be more beneficial to wearing down the opposing defense with their offensive speed and tempo. Also, loading the box leaves Oregon's secondary exposed to on-on-one matchups against the Wildcats receivers on the outside. Nevertheless, I believe that the Ducks' speed and athleticism in the back-end of the defense is a strength for them, in this game, against the Kansas State wide-receiving corps.
You see, it all starts with Oregon's game plan, on defense, in stopping Kansas State's most effective weapon in Collin Klein's running ability and exposing his greatest weakness, passing the football. Nick Aliotti is a fantastic coach and strategist, so he will be prepared for this. It is just up to the men on the field to execute the strategy to its fullest. If Oregon is able to do this, I like their chances of dominating the Fiesta Bowl this Thursday and overwhelming Kansas State.

NEW ANNOUNCEMENTS
Whoa!  Our article schedule is changing! Learn more by clicking here!
Have you learned more football at this website?
Do your part and contribute to the new Oregon Football Repository at FishDuck.com that we will build with enough support. It will be a gift to all Oregon fans!
Learn more by clicking here.