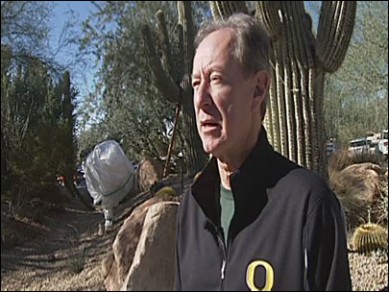 I'm currently in the midst of writing a college thesis paper on the legendary sportswriter Frank Deford, a man so revered amongst his peers and fans, that he holds the unofficial title of "Best Sportswriter Of All-Time." Deford's style is unique, quirky, and often outside-the-box. The calling card of a great Journalist is to be loved by many, loathed by some, and respected by all. The same can be said for play-by-play announcers, who so often are the earliest memories we have of our teams.
In no sport is this more common than in college football, a sport founded and thriving in tradition.
At Oregon, Jerry Allen has been calling games from high atop Autzen stadium for 27 seasons. His voice is as recognizable to Duck fans as the vision of Puddles. Ask anyone to recite "The Pick," and a sparkle glistens in their eye at the thought.
His call at the end of the 2010 Civil War, after Oregon had wrapped up their first national title bid, will be remembered in the lore of college football as one of the most emotional, heartfelt calls of all-time.
Jerry is not the best play-by-play announcer to ever crack a mic. He doesn't pretend to be. He is a Duck fan, just like you and me. It's his honesty that sets Allen apart from the homers that dot the profession today. It would  be a bigger surprise to see Oregon State with a Civil War lead than to hear Jerry claim the Ducks were cheated on a call (Joel 1, OS 0).
Announcers like Jerry Allen are a fading breed; a man who just wants to cheer his team, and paint a picture for us to enjoy.

ANNOUNCEMENTS
I will be sending emails with links to recent articles in the near future so you don't miss any juicy ones.  We will have articles between Monday and Thursday every week, so if you sign up for the "FishLetter" with your email–no spammer will have it. (Promise)
Or send it by email to: charles@fishduck.com and I'll put you on the list.  We begin them soon.
(I will also put my thoughts in these emails/newsletters that cannot be publicly published throughout the football season as well. (Mr. FishDuck)