The Oregon Ducks men's basketball team has a problem.  It's a huge problem.  Turnovers are killing the Ducks, and they have been all season.  It's hard to see the forest for the trees….
But you've heard this before.  You've probably heard it today and you'll hear it tomorrow.  Turnovers are the problem.  Yeah — it's not so profound when it's constantly beaten into your head.  Allow me to suggest a different Big Problem.
The Ducks' albatross is point guard injuries.  So far this season, the Ducks had been relatively injury free.  Sure, E.J. Singler had some tendonitis problems in his knee(s) at the outset of the season, and you could attribute his slow start to that, but it seems to not be an issue right now.  The issue now?  Point guard injuries.
Dominic Artis is special.  It's easy to point to some early season falterings in the offense and claim he was the problem.  Is blame as easy as that?  I don't think so.  I don't think he's worse than Luke Ridenour as a freshman, and I also think the case can easily be made that Artis is better.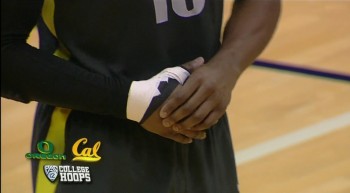 Before you knew it, Artis was down.  Then, as soon as Artis is out, Jonathan Loyd gets injured.  We can't afford these point guard injuries.  Willie Moore has shown that he has potential, but he's not yet capable of shouldering the point guard duties of this Oregon Ducks team.
Yes, this has the potential to suck big time.  But long term, is this bad?  We're not talking NCAA football, where one loss puts you out of the championship picture.  This is NCAA basketball.  The Ducks are only trying to get into the NCAA tournament.  The big picture still looks good there.  It may be touch-and-go, but there are worse places to be than the top of the PAC-12.
The Ducks just need to get by at this point and make it in.  We know that the choice is not there to pick and choose injuries; but if you were given a choice to have injuries to your two top point guards, would you choose it right before the tournaments, or would it be in the middle of the PAC-12 part of the season?
It's not going to be easy, but this could be really bad news, or it could be bad news at the best part of the season.  We'll just have to wait and see how things play out.

NEW ANNOUNCEMENTS
Whoa!  Where are all the articles? What happened to FishDuck.com? Learn more by clicking here!
Do your part and contribute to the new Oregon Football Repository at FishDuck.com that we will build with enough support. It will be a gift to all Oregon fans!  Learn more by clicking here.