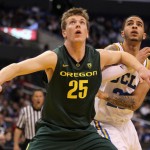 The Oregon Ducks take on the Stanford Cardinal tonight in Matthew Knight Arena.  Oregon looks to avoid a second case of deja vu, after the loss to Cal on Thursday.  When the two teams met earlier this month, it was the Cardinal who came out on top 76-52.  For the entirety of that game, Oregon looked out of sorts and never stood a chance.  Tonight is a chance at redemption and to stay atop the conference rankings.
Stanford has been a good rebounding team so far this season.  Oregon can count on Arsalan Kazemi to get his boards, but will need other players to step up and contribute.  It would be a big boost if Oregon's point guards can start consistently adding points on the scoreboard.
The toughest test for Oregon will be handling Dwight Powell, who is averaging 15.4 points and 8.4 rebounds.  Two other players come to mind also: Chasson Randle is averaging 13.8 points per game, and Josh Huestis a Kazemi-like player, who is averaging 10.6 points and 9.4 rebounds per game.  If Oregon can shut at least two of these players down they should have a legitimate shot at walking away with a W.
This is a very important game for Oregon, as they need to at least stay tied with Arizona to win the conference and would like to stay in the top 25 going into the post season.
To watch the game, tune in to the PAC-12 Network at 5pm PST.

NEW ANNOUNCEMENTS
Whoa!  Where are all the articles? What happened to FishDuck.com? Learn more by clicking here!
Do your part and contribute to the new Oregon Football Repository at FishDuck.com that we will build with enough support. It will be a gift to all Oregon fans!  Learn more by clicking here.