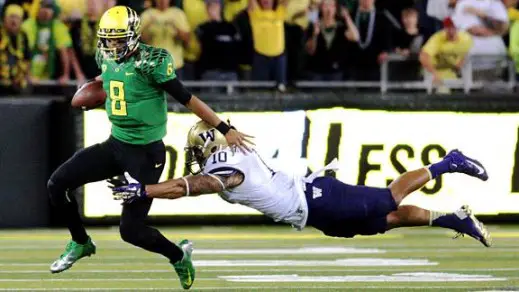 This conference is loaded with a multitude of young, talented signal callers returning for the 2013 season.  Take a look at my Top 5 PAC-12 quarterbacks who are coming back for next year.  Who's your number 1?
Marcus Mariota (Oregon) – In his first season as a starter, all Mariota did was lead his team to 12 wins (including a BCS Bowl victory), get named Fiesta Bowl MVP, and become the greatest dual-threat QB in the country.  He averaged 7.1 yards per carry, threw for 32 TD's, had only 6 INT's, and had a passing efficiency rating of 163.2.  (Sorry Johnny, but Marcus beat you out on all four of these stats.  Enjoy your trophy and stay out of trouble.)  Mariota earned first-team All PAC-12 honors.  The future looks extremely bright for this young star in the making.
Brett Hundley (UCLA) – Had a huge freshman year where he led the Bruins to a PAC-12 Championship game berth.  Hundley amassed over 4,000 total yards and 38 TD's.   UCLA will be the favorite to win the South division, but it will be interesting to see how he handles the pressure now that the Bruins have a target on their back.  My guess is that he deals with it very well.
Taylor Kelly (Arizona State) – Kelly is a perfect fit for Todd Graham's system.  As a sophomore, he accumulated 3,555 total yards and 30 TD's.  He finished 2nd in the PAC-12 in passing efficiency behind Mariota.  He reminds me of a Matt Scott in the making.
Kevin Hogan (Stanford) – David Shaw and his coaching staff have a way of getting the most out of the quarterback position and Hogan fits the mold of a Stanford-esque QB.  He should only get better, which is scary for their opponents in the North division as he completed 71.7% of his passes with a 3:1 touchdown-to-interception ratio as a freshman.
Max Wittek (USC) – He will likely open the year as the starting QB and has the benefit of throwing to the 2012 Biletnikoff award winner and future first-round pick, Marqise Lee.  They have recruited a bevy of offensive weapons during Kiffin's tenure at USC, so expect their offense to be strong.  Maybe even with Kiffin calling the plays.

ANNOUNCEMENTS
Want to have fun writing or editing articles about our Beloved Ducks? We have openings for just a few volunteer writers and editors and it is typically just 3-5 hours per week.
Learn more by clicking here.