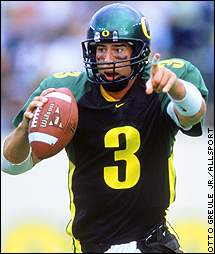 As I watched the PAC-12 Network's "12 Best" episode of the conferences best football players from this past season, I was filled with, as I'm sure all Duck fans were, a sense of pride as three of our boys cracked the list: De'Anthony, Kenjon and Marcus Mariota.  Listening to the comments about Mariota, I couldn't help but wonder: Will he surpass Joey Harrington as the most beloved Duck quarterback in my eyes?
It's a simple question, yet there are thousands of possible ways to dissect it.
Now, Joey may not rank at the top of everyone's list, and that's okay.  For me, however, no Duck has ever captured my imagination and heart as much as Captain Comeback did.  (To be fair, I never witnessed Dan Fouts, or any of the other legends.  Also, I was only nine when Danny O'Neil led the Rose Bowl charge.)
What made Joey special, in my eyes, was the passion he displayed.  As a young fan, you live and die with your teams.  Every win catapults you through the agonizing week of school, while a loss crushes your spirit beyond recognition.  What made Joey, "Joey", was that you felt as if he cared even more than you did…something not often seen by today's athletes.  He was also aided by the fact that he was the pilot flying Oregon into heights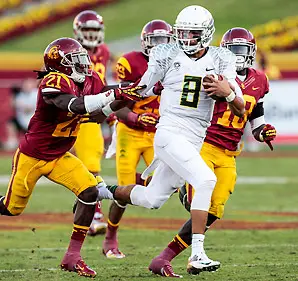 never-before-seen.  No one saw the three-year stretch coming that he and his teammates had:
Beating Texas.  Dethroning USC.  The Desert Miracle.  The Fiesta Bowl rout of Colorado.
Those were the games of legend; and combined with his charisma, charm, and flair for the dramatic, it set Joey apart from any other Duck player for me.
Now the question begs, can Marcus Mariota overtake him?  He seems to have everything needed: His physical talents far out-weigh what Harington had.  He has the potential to play four-seasons as a starter, for a team that looks to be built for multiple 10-win seasons.  Above all else, he seems like a wonderful kid, humble and appreciative.
You never forget your first love, they say.  No amount of time can erase just how special Joey was for this University, and for me.  It seems, however, that there's a new quarterback in town who could challenge Joey for the title.

NEW ANNOUNCEMENTS
Have you learned more football at this website?
Do your part and contribute to the new Oregon Football Repository at FishDuck.com that we will build with enough support. It will be a gift to all Oregon fans!
Learn more by clicking here.