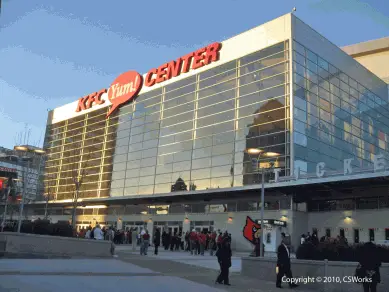 With the looming showdown of Oregon vs. Louisville on Friday, college basketball fans everywhere are preparing for another weekend of upsets, buzzer-beaters and Florida Gulf Coast dancing.  With that in mind, it's time to address the most pressing issue of the day, just a mere 72 hours from tip-off.
No, it's not match-ups between the Ducks and the Cardinals.  It's not a Rick Pitino vs. Dana Altman debate.  It's not even a "Who's got a less intimidating mascot" debate.  (Although, I would like Oregon's chances to come out victorious there)
Nope, this issue has more to do with the state of our country than anything.  This is about the naming rights to the home arena of our opponent:
The KFC Yum! Center.
No, that's not a typo.  The Louisville Cardinals actually play basketball in a building named KFC Yum!.  You can't even make that sentence grammatically correct when spelling the name of the Arena.  That's how awful it is.  How is it, that a building housing arguably the most physically fit of athletes be named something so, so…that?
I understand the importance of naming rights for buildings, especially on the collegiate level.  Every penny helps, and schools cannot be picky.  However, in a time where obesity and heart problems are killing millions of American's every year, I would hope that they could have held out for a better offer.  It's almost as bad as McDonald's being the official sponsor of the Olympics.
Oregon, on the other hand, shows it's class by naming their arena after the son of booster Phil Knight, in honor of his untimely death.  Matthew Knight Arena is a symbolic gesture from father to son, so his legacy can live on.
KFC Yum!?  That's a symbolic gesture to wipe the grease off the ball. It's for that reason, and that reason alone, that Oregon advances to the Elite 8.

ANNOUNCEMENTS
Want to have fun writing or editing articles about our Beloved Ducks? We have openings for just a few volunteer writers and editors and it is typically just 3-5 hours per week.
Learn more by clicking here.