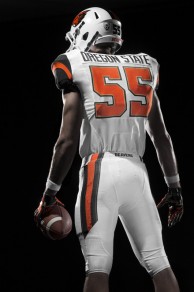 For the better part of the last 15 years, the University of Oregon has been widely known — for better or worse — as a school dedicated to pushing the envelope.  That  has never been more evident than in the uniforms they wear out on the field every Saturday, often a combination of vivid greens, yellows and blacks.  They are often great, sometimes hideous, and always cutting edge.
On Monday, Oregon State attempted to "Re-Beav" themselves, reaching out to Tinker Hatfield, Nike's most famous designer.  It was the Beavers' attempt to keep up with their rivals from the south; to stay on top of the trend, remain relevant with recruits.
But from the first look, it was a giant miss.
There is nothing wrong with the uniforms look-wise, as for what we've seen.  The problem lies in the fact that we've seen these uniforms before.  Most notably, Virginia Tech trots out a very similar
style every week, with just a different color scheme.
I like the attempt to keep up with the Ducks. In the world of college football, if you're not going forward you're simply going back.  The re-branding was necessary, because they can't rely on tradition like other schools (Alabama, Penn State, USC).
However, if Oregon State was going for originality, pizzazz, and attempting to keep up with Oregon, well…
Just like on the field, they fell short.

ANNOUNCEMENTS
Want to have fun writing or editing articles about our Beloved Ducks? We have openings for just a few volunteer writers and editors and it is typically just 3-5 hours per week.
Learn more by clicking here.