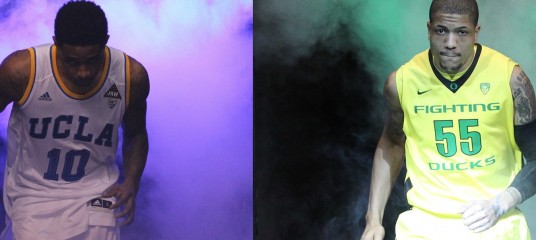 The Oregon Ducks came through in a big way tonight, and knocked off the UCLA Bruins 78-69 to take the Pac-12 basketball championship.  Oregon further solidified their spot in the NCAA tournament as they now have a guaranteed spot, and will assuredly be seeded better now for their efforts.
The Ducks got a huge boost from the bench tonight, as Carlos Emory and Jonathan Loyd had monster games.  Emory led all Ducks with 20 points and Loyd added another 19 points in front of his home town crowd.  Damyean Dotson also put up 13 points with Arsalan Kazemi adding a double-double of 12 points and 12 rebounds.
Oregon shot very well, going for 47.5% from the field and 50% from behind the arc.  They also out-rebounded the Bruins 35-27.  Bracketologist Joe Lunardi has Oregon as a 9 seed for the tournament.  That is kind of low considering he has UCLA and Arizona both as 5 seeds, and when Selection Sunday is said and done don't be surprised to see our Ducks higher than that.  Oregon won all three contests against these teams this season and has an overall better record.
This is the first win in the Pac-12 Championship for the Ducks since 2007.

ANNOUNCEMENTS
Want to have fun writing or editing articles about our Beloved Ducks? We have openings for just a few volunteer writers and editors and it is typically just 3-5 hours per week.
Learn more by clicking here.