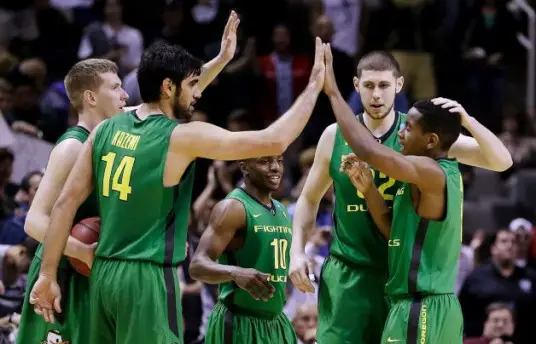 The Oregon Ducks take on the St. Louis Billikens today in the third round of the NCAA tournament.  After dominating Oklahoma State, Oregon looks to make another statement about their poor seed today.
The Ducks will need to control Dwayne Evans, who is averaging 14 points and 7.7 rebounds per game, if they want to get the win.  The key advantage for this game will again be rebounding.  St. Louis is a horrible rebounding team, so Arsalan Kazemi will be a major factor in today's game.  Continued smart play from the point guards will be a must for the rest of the tournament for the Ducks.
St. Louis has been a good team all season, but a comparison comes in to play in regards to Washington.  Oregon swept the Huskies, while the Huskies beat the Billikens.  Oregon has a great chance to beat St. Louis, as I believe they are over hyped, while the Ducks are obviously undervalued.  If the Ducks can get past St. Louis they will make the Sweet Sixteen – not bad for Dana Altman's third year.  If they make it that far they will likely play #1 Louisville.  If that's the case….
First things first.  The Ducks need to defeat St. Louis.
To watch the game, tune in to TBS at 4:10 pm PDT.

ANNOUNCEMENTS
Want to have fun writing or editing articles about our Beloved Ducks? We have openings for just a few volunteer writers and editors and it is typically just 3-5 hours per week.
Learn more by clicking here.