Jake Reed finally got some run support as the Ducks opened their Pac-12 baseball season with a resounding 5-2 victory over the Trojans of Southern Cal.  Oregon's ace pitcher had been struggling to start the season, as the sophomore watched his ERA balloon to 4.57 through four starts, but it was time to turn the page with league play starting up.  Jake Reed took advantage of his fresh start with a fantastic outing to start conference play.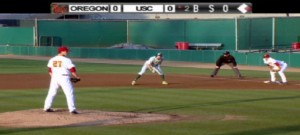 Reed (2-3) pitched seven innings, allowed just five hits, and conceded a minimal two runs.  Over the past few weekends, the Oregon offense hasn't been able to back up their starter's efforts, but that would change on Friday night.
The Oregon offense was efficient, pesky, and effective against the USC pitching staff.  Trojan starter Bob Wheatley was forced to throw over twenty pitches per inning pitched, and struggled to get the Oregon batters out after getting to two strike counts.  As a result, the Ducks were able to answer an early 2-1 deficit with a two run sixth inning, putting Reed in line for his first victory since opening night.
Oregon padded their lead with a run in the seventh and eighth innings to push the score to 5-2.  J.J Altobelli and Scott Heineman led the way for the Ducks offensively with two hits and one RBI a piece.  Pinch hitter Desmond Santos and Shaun Chase added RBIs as well.
Southern Cal did make it interesting in the eighth inning, though.  After going for seven strong innings, Reed started to struggle, losing his feel for location to allow the tying run to get to the plate with no outs.  Christian Jones got the call from the bullpen, and promptly walked the first batter he faced to load the bases, and put the tying run on base.
Summoning all of his clutch abilites, Jones got the next batter to hit a chopper back to the mound, starting a massively important 1-2-3 double play to cut a run down at the plate.  Jones then hit the next batter to face him to reload the bases, and put the tying run on base yet again.
With nerves running high, Jones fell behind the next batter with a first pitch ball, but responded with three straight strikes to retire the side, keeping the score at 5-2.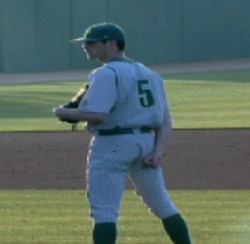 I can not overemphasize how incredibly difficult it is to work out of the situation Jones inherited (runners at second and third with no outs, and a 2-0 count on the batter he was called in to face).  Kudos to the lefty, as Oregon has found yet another clutch pitcher in the bullpen.
Of course, the other clutch closer Oregon boasts is, of course, Jimmie Sherfy.  The Duck closer struck out the first batter he faced, then hit the second batter.  Two pitches later, Sherfy worked a routine 6-4-3 double play to end the game.
Oregon and USC face off at 2:00 pm tomorrow for game two, sporting USC righty Wyatt Strahan (0-0, 1.56 ERA) against Oregon's lefty Tommy Thorpe (2-2, 3.09 ERA)