EUGENE, Ore. – The University of Oregon's Matthew Knight Arena has been awarded LEED Gold certification by the U.S. Green Building Council and verified by the Green Building Certification Institute, the GBCI announced Wednesday. Matthew Knight Arena is the first building on the Eugene campus to achieve Gold status in LEED, an acronym for Leadership in Energy and Environmental Design, and the second University building overall to earn that level, joining the UO in Portland's White Stag Block
"LEED certification for the Matthew Knight Arena aligns perfectly with the University's commitment to maintain the current carbon footprint of our 295-acre campus while growing and expanding our facilities," said Chris Ramey, associate vice president, Campus Planning and Real Estate. "The Oregon Model of Sustainable Development mandates that we achieve LEED Gold certification for new buildings and the arena is a wonderful showcase of the future of campus growth."
Matthew Knight Arena, the 400,000 square foot home of the Ducks' men's and women's basketball, volleyball and acrobatics and tumbling teams,  is one of five current Eugene campus buildings tracking for certification by LEED, considered the nation's preeminent program for the design, construction and operation of high performance green buildings.
Other high-performance buildings to join the University's LEED team include the Ford Alumni Center, Lewis Integrative Science Building, Global Scholars Hall, Straub Hall and the Student Recreation Center Expansion. The Lillis Business Complex, which earned Silver certification, was the first LEED building on campus.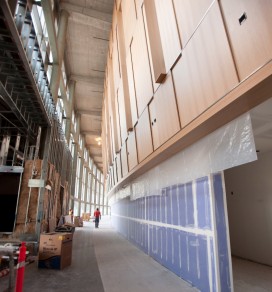 Matthew Knight Arena achieved LEED Gold certification for energy and lighting efficiency, water and material use as well as incorporating a variety of other sustainable strategies. By using less energy and water, LEED certified building save money for families, businesses and taxpayers; reduce greenhouse gas emissions; and contribute to a healthier environment for residents, workers and the larger community
LEED certification of Matthew Knight Arena was based on a number of green design and construction features that positively impact the project itself and the broader community. These features include:
·         Access to public transportation and bike-friendly enhancements
·         Water efficiency measures, including a 50 percent reduction in water used for landscaping and a 30 percent reduction overall in building water use
·         Optimized building energy performance of up to 42 percent above state requirement
·         Use of recycled and regional materials in building construction
·         Improved indoor environmental air quality through the use of low-emitting materials (carpet, paint, wood, stains, sealants, etc.)
In 2011, the University formally adopted its existing efficiency and sustainability practices, and is now seeking to offset new construction energy use despite continued construction on its 295-acre campus. New projects are required to certify to a minimum of LEED Gold and produce 35 percent greater energy savings than the state's building code requires.

NEW ANNOUNCEMENTS
Have you learned more football at this website?
Do your part and contribute to the new Oregon Football Repository at FishDuck.com that we will build with enough support. It will be a gift to all Oregon fans!
Learn more by clicking here.