EUGENE, Ore. – Oregon men's basketball coach Dana Altman has announced the signing of two junior college transfers, adding forward Elgin Cook and guard Jalil Abdul-Bassit as the latest member of UO's 2013-14 class.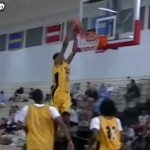 Cook, a 6-6 forward from Milwaukee, spent his freshman season at Northwest Florida State, earning first-team All-Panhandle accolades as the conference's Freshman of the Year. The son of former NBA All-Star Alvin Robertson, Cook averaged 14.9 points and 6.0 rebounds per contest for the No. 3-ranked (nationally) Raiders.
Abdul-Bassit, a 6-4 backcourt player from Anchorage, Alaska, spent the past two seasons at North Idaho College, where he was an All-Region first team performer for the Cardinals. He was NIC's second-leading scorer this past season, averaging 13.0 points and 2.7 rebounds per game, while shooting better than 45% from the field and 38.5% from 3-point range.
Cook will be a sophomore and Abdul-Bassit a junior this fall.
The latest signees join a class that already includes prep players Jordan Bell (F, Long Beach, Calif.), Christiano Felicio (F, Brazil) and A.J. Lapray (G, Salem, Ore.). The signing period runs from April 17 to May 15.
Oregon finished the past season with an overall record of 28-9, winning the Pac-12 Conference Tournament Championship and advancing to the NCAA Tournament's Sweet 16.
Feature photo courtesy of Walt's Photography.

ANNOUNCEMENTS
Want to have fun writing or editing articles about our Beloved Ducks? We have openings for just a few volunteer writers and editors and it is typically just 3-5 hours per week.
Learn more by clicking here.