---
Eugene, OR: The sun was out with a zero percent chance of rain Saturday in College Station, Texas, home of the Texas A&M Aggies.  That wasn't the case at Hayward Field in Eugene, Oregon where the weather poured distress into the nation's top-ranked men's track team at the Pepsi Invitational.  The fourth-ranked Oregon men pulled off the upset over the top-ranked Aggies, while the Aggies' women's team edged the Ducks' women in the final women's team standings, but the weather made Oregon's long distance runners feel quite at home.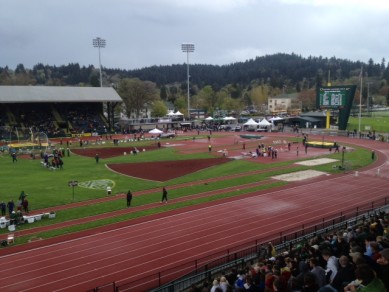 A week after being named PAC-12 athlete of the week, Jordan Hasay teamed up with teammate Becca Friday to take the top two spots in the Women's 1500 meter run.  Laura Roesler and Anne Kesselring secured another 16 points for the women's team with a one-two finish in the 800 meters.
The Oregon men were led by a dominating one-two-three sweep in the 5000 meter run by Jeramy Elkaim, Parker Stinson and Matthew Melancon.

ANNOUNCEMENTS
Want to have fun writing or editing articles about our Beloved Ducks? We have openings for just a few volunteer writers and editors and it is typically just 3-5 hours per week.
Learn more by clicking here.