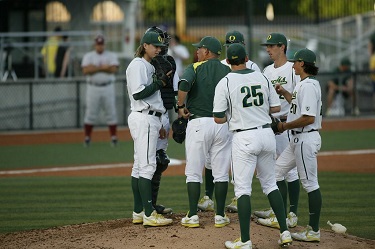 Oregon (34-11), which holds a half-game lead in the Pac-12 standings over Oregon State with three weeks to play in the regular season, steps out of conference this weekend to visit Ohio State (32-15).  The three-game series in Columbus will be the first ever played between Oregon and Ohio State.  The Buckeyes will return the trip next March for a series in Eugene.
For Phil and anyone else who wants to catch the games, game times are 4:05 p.m. Friday, 12:05 pm. Saturday and 9:05 a.m. Sunday.  The Friday game will be televised on the Big 10 Network.  All three games will be broadcast on Eugene radio 95.3 and webcast on goducks.com.
Photo compliments of Gary Breedlove Photography

ANNOUNCEMENTS
Want to have fun writing or editing articles about our Beloved Ducks? We have openings for just a few volunteer writers and editors and it is typically just 3-5 hours per week.
Learn more by clicking here.