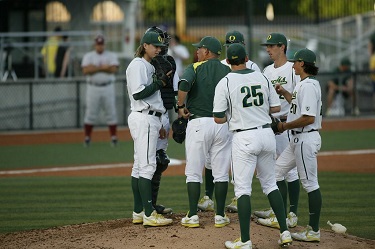 Oregon (34-11), which holds a half-game lead in the Pac-12 standings over Oregon State with three weeks to play in the regular season, steps out of conference this weekend to visit Ohio State (32-15).  The three-game series in Columbus will be the first ever played between Oregon and Ohio State.  The Buckeyes will return the trip next March for a series in Eugene.
For Phil and anyone else who wants to catch the games, game times are 4:05 p.m. Friday, 12:05 pm. Saturday and 9:05 a.m. Sunday.  The Friday game will be televised on the Big 10 Network.  All three games will be broadcast on Eugene radio 95.3 and webcast on goducks.com.
Photo compliments of Gary Breedlove Photography

NEW ANNOUNCEMENTS
Whoa!  Where are all the articles? What happened to FishDuck.com? Learn more by clicking here!
Do your part and contribute to the new Oregon Football Repository at FishDuck.com that we will build with enough support. It will be a gift to all Oregon fans!  Learn more by clicking here.