EUGENE, Ore. – Jimmie Sherfy is one of 22 pitchers on the latest watch list for the 2013 Pitcher of the Year Award, sponsored by Diamond Sports and presented during the College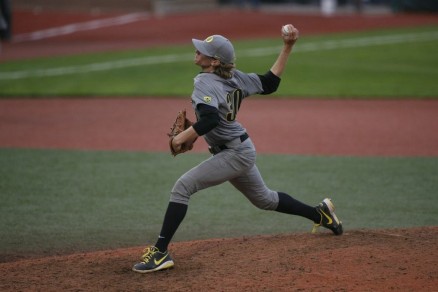 Baseball Hall of Fame's Night of Champions on June 29.
The junior right-hander leads the nation in saves with 19, tying his school record on Wednesday against Gonzaga, while boasting a 2-0 record and a 1.00 ERA. He also leads all active players in the country in strikeouts per nine innings (13.05) and is second in career saves (38).
Previously, Sherfy was named to the mid-season watch list for the Golden Spikes Award, which is sponsored by Major League Baseball and honors the top amateur baseball player in the country, as well as the NCBWA Stopper of the Year Watch List.  Sherfy earned multiple postseason All-America honors as a sophomore after finishing the season with 19 saves and a 2.20 ERA.  The right-hander claimed first-team ABCA/Rawlings All-America recognition, while being named second-team All-America by the NCBWA, Baseball America, and Perfect Game, and third-team by Louisville Slugger.  Sherfy was also a NCBWA Stopper of the Year finalist and claimed first-team All-Pac 12 accolades after leading the league in saves.
Photo courtesy of Gary Breedlove

ANNOUNCEMENTS
Want to have fun writing or editing articles about our Beloved Ducks? We have openings for just a few volunteer writers and editors and it is typically just 3-5 hours per week.
Learn more by clicking here.