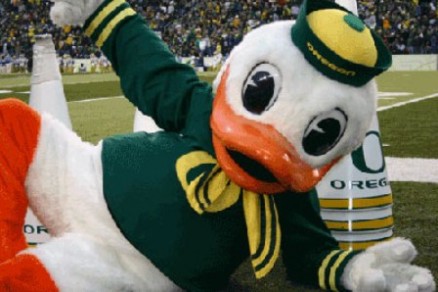 Feature photo courtesy of Gary Breedlove.
Change. One of the first words that pop into football fans heads when they think of Oregon.  It's also the subject of the hype/motivational video released by Oregon yesterday.
The video opens with a shot of the video board inside Autzen Stadium with the words "Change.  Change inspires fear," and shows footage of De'Anthony Thomas, running the ball from one side of the field to the other in typical DAT fashion.
It talks about the different kinds of change and how it's scary for some but has always been good for Oregon.
We see the construction of the new Football Operations Center and the renovations taking place around Autzen Stadium.  The change from player to player and coach to coach.
It shows us why it's good to be a Ducks fan and why change, at least for a Duck, is a good thing and ends with the simple:
Tradition never changes: Champions do.
This video will be available in the Fishduck Video Archive, under the 2013 Football Motivational Videos.

NEW ANNOUNCEMENTS
Have you learned more football at this website?
Do your part and contribute to the new Oregon Football Repository at FishDuck.com that we will build with enough support. It will be a gift to all Oregon fans!
Learn more by clicking here.