Being so small in stature has helped De'Anthony Thomas more than it has hurt him.  Aside from two fumbles against LSU in the opening game of his career, the Black Mamba has been nothing short of brilliant over the past two seasons.  For every turnover, he has ten incredible plays.  But as we see here, dropping the ball doesn't help you score, but maybe it helps a teammate score?
Easily the strangest touchdown of the football season for our Ducks, it is still a play that shows the remarkable cutting ability, vision and speed of DAT.  It is also a play that makes you say, "Wow, #75 got all the way to the back of the end-zone?"  In a tandem never seen in football, Thomas and Fisher make a pretty nasty combo.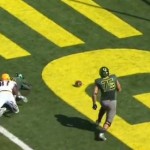 It is difficult to decide which player made the better play.  On one hand, Thomas de-cleats a few players, moving like a real live Mamba.  On the other, Mr. Fisher gets on his horse all the way to the end of the play, finally pouncing on the ball for the touchdown.
One thing is for sure, Duck fans will remember that play because of the filthy moves put on by the one and only DAT, and because very rarely can anyone witness an offensive lineman score a touchdown – more than 45 yards from the line of scrimmage.

ANNOUNCEMENTS
Want to have fun writing or editing articles about our Beloved Ducks? We have openings for just a few volunteer writers and editors and it is typically just 3-5 hours per week.
Learn more by clicking here.