Colt Lyerla oozes potential.  Utilized in a number of ways during his sophomore season, the TE from Hillsboro was a vital weapon in the Duck offense, with 25 receptions for 392 yards and 6 touchdowns.
During the Arizona game, he ran from the backfield as part of a jumbo formation, using his instincts and physical frame to run for 9.0 yards per carry and a touchdown in the 49-0 pounding of the Wildcats.  However, as the season progressed, we failed to see Lyerla consistently in the backfield.  To create an even more dynamic offense, anticipate Helfrich to exploit Lyerla's towering physicality in the running game, primarily in goal line situations when the team needs a crucial score. Notice Lyerla is lined up as a running back.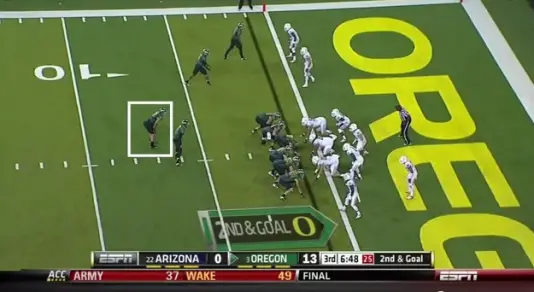 The tight end position has been an integral part of the Duck offense over the years. David Paulson and Ed Dickson were the most recent tight ends to lead the team.  How does Lyerla stack up against these former players during their first two full seasons?
After his sophomore season, Lyerla has more touchdowns than either of these former Duck tight ends, cementing the thought that he is a special talent.  Paulson, who helped guide Oregon to the national championship game, grabbed four touchdowns through his second season and had ten for his three year career.  Dickson hauled in three touchdowns through his sophomore year and had twelve for his career.  Lyerla already has eleven receiving touchdowns in only two seasons (and one rushing).  The fact that Lyerla has progressed at a faster rate than these big-time tight ends should make Duck fans ecstatic.
Expect Lyerla to catch more than ten touchdowns this year and become a favorite target on third downs and goal line situations.  If he plays up to his potential, it may be time to book reservations to Pasadena.

NEW ANNOUNCEMENTS
Whoa!  Where are all the articles? What happened to FishDuck.com? Learn more by clicking here!
Do your part and contribute to the new Oregon Football Repository at FishDuck.com that we will build with enough support. It will be a gift to all Oregon fans!  Learn more by clicking here.