As we all know the Oregon Ducks football team doesn't wear the same uniform twice.  Ever.  So neither should the fans, right?  Exactly.  The best dressed team needs to have the best dressed fans so if our team looks good, we must look good too.  Luckily, Oregon has provided a color guide for fans so everyone knows what to wear when Saturday rolls around.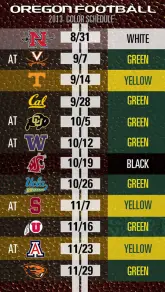 Notice how most home games are green?  Take that into considering when purchasing new Duck gear.  Whether is a white out, black out, green out or even a yellow out, fans should dress as they are told.  Especially because no one wants to be that one guy who shows up in yellow while everyone else wears green.  Remember, the guide is here to help.
So Duck fans listen up: whip out that body paint, face paint, jersey or anything else you like to wear on game day, and get ready for the 2013 season!  It's only a month away.  Just make sure you dress accordingly.
Otherwise, the Gods of Autzen Stadium will shun you.

ANNOUNCEMENTS
Want to have fun writing or editing articles about our Beloved Ducks? We have openings for just a few volunteer writers and editors and it is typically just 3-5 hours per week.
Learn more by clicking here.