Stephen Fischer
The Formula Car Challenge (FCC) presented by Goodyear, was held August 23-25 in Sonoma, California, and the winner of the Mazda Formula Division was none other than TJ Fischer, nephew of our own Charles Fischer!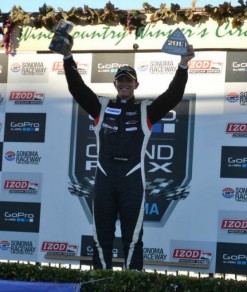 It was a perfect weekend for TJ.  On Saturday, he won the pole position based on fastest lap times and followed it up with the checkered flag and a national championship for his division, on Sunday.  Spectators held their breath as the pack sped up the hill to turn two after taking the green flag.
Tightly bunched, some pro division cars went into spins.  "There were some pro cars that got tangled up in front of me," TJ explained to the Daily Republic after the race.  "I just ducked to the right to avoid it, and I was hoping that nobody would bounce off the wall and come at me.  It never did and I got through cleanly.  It was sketchy.  It was bad."
After being drenched in the winner's circle, TJ went on to say, "It feels good.  We've worked a long time for this. To finally get it, it's a dream come true."  Despite being the center of attention, TJ was quick to defer credit to the members of his team.  "It shows that we can race at different tracks, that we can't only do it at Sonoma, we can do it at all the tracks in Calfornia," TJ explained to the Daily Republic.  "We're going up to Pro Mazda now and we're working on sponsors and all that.  We need all the help we can get, to help get the Pro Mazda championship for us next year.  That's the ultimate goal.  As a team, we can get it done.  It's going to be a great step for us."  The FCC has three separate classes of racing: Pro Formula Mazda, Formula Mazda and FormulaSPEED2.0.
The FCC Series is designed as a breeding ground for up-and-coming professional racers.  TJ's win at nationals – which was his ninth straight checkered flag – prepares him to move up to Pro Formula Mazda next year.  The win came against a stacked field that included the 2012 SCCA National Champion and the former track record holder, who has also earned numerous SCCA National Championship runner-up spots.  It's a great start on the fast track for TJ, who is just twenty years old. FishDuck.com had a story about TJ recently and many readers wanted us to keep them posted on his career.  We are happy to report that it doesn't get much better than this!

NEW ANNOUNCEMENTS
Whoa!  Where are all the articles? What happened to FishDuck.com? Learn more by clicking here!
Do your part and contribute to the new Oregon Football Repository at FishDuck.com that we will build with enough support. It will be a gift to all Oregon fans!  Learn more by clicking here.