Kevin Cline
After Week 9 of the college football season, the game of leapfrog continues in the top five for consecutive weeks now, as Oregon jumped Florida State to No. 2 in the second release of the BCS standings after an impressive win at home against the UCLA Bruins.  
Both teams are still chasing the reign of No. 1 Alabama, a team that continues to improve with the passing weeks.  The Crimson Tide are the first team to be ranked No. 1 in the first two releases in back-to-back years since Ohio State in 2006-07, after they decimated streaking SEC foe Tennessee Saturday.
In each week that passes, any hole in Nick Saban's squad seems to have diminished.  Starting the season, Alabama looked vulnerable in the secondary and weaker in the offensive trenches than in recent years but their recent play tells a different story.  Since their thriller at Texas A&M, the champs have allowed a total of only two touchdowns, and their 9.8 points allowed per game is the lowest of any team this season.
Complementing the defensive dominance, Bama has found a rhythm on offense, scoring 45+ points in four consecutive weeks, and their Heisman candidate quarterback AJ McCarron continues his exceptional play with a 10-0 touchdown-to-interception ratio in the same span.
However, they also have one of the toughest remaining schedules with potentially three games against teams in the current top-14 of the BCS — LSU, Auburn and whomever they may face in the SEC title game.  It seems tough but the champs have been here before, and they have time to make adjustments before hosting the Tigers at home in a few weeks.
Mistakes and a tenacious Bruins defense flustered No. 2 Oregon, as the two went into halftime tied 14-14.  But in the second half, Oregon's defense set the tone, and the Ducks rode 28 unanswered points in the second half to win, 42-14.  The secondary was absolutely filthy as they held Brett Hundley to just 65 yards passing, one touchdown and two interceptions, increasing the Ducks total number of turnovers to 23 on the year, which is good for third most in the nation and the most of any team among the Top-25.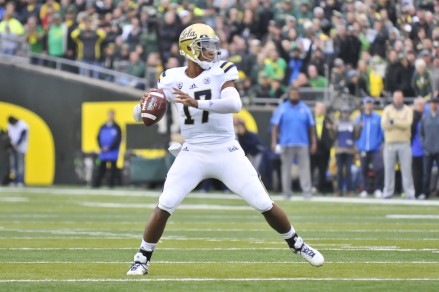 Marcus Mariota was pretty solid through the air, going 21-28 with 230 yards and a score, and finishing the game off with an efficient 10-for-10 second half.  Byron Marshall led the rushing attack once again, who ran for 133 yards and three touchdowns.  Marshall has been an absolute animal on the ground lately, tallying eight touchdowns in Oregon's last three games.  The Ducks still have their work cut out with a visit to No. 5 Stanford, who last season, ended Oregon's BCS dreams with an overtime upset in Eugene.  Both teams have bye weeks this weekend before their match-up Thursday Nov. 7.
Florida State dropped to No. 3 in the standings even though they demolished NC State 49-17. The Seminoles led 35-0 at the end of the first quarter in their redemption game from last year against the Wolfpack and they remain a serious contender for a national title bid and they can boost that resume even more with a win at home this week against undefeated No. 7 Miami.
It is true the Hurricanes have won every game this season but they have relied on comeback efforts against average teams to do so. In the past two weeks, Miami has won with late fourth quarter scores to defeat North Carolina and Wake Forest.
On the contrary, this will be the stingiest defense redshirt freshman Jameis Winston has seen all year so far this year and it could make things difficult for the young star this weekend.  Although the Seminoles are still a serious contender for the national title, they do not control much of their own destiny and will likely need Alabama or Oregon to lose a game at some point this season if they want to jump into one of the top two spots.
No. 4 Ohio State continued the nation's longest win streak with a 63-14 win against Penn State Saturday, handing the Nittany Lions its worst loss in 114 years.  QB Braxton Miller had 320 yards and totaled five touchdowns in the win to keep his Heisman hopes alive, but to get to a title game the Buckeyes will need a little help from other teams because their Big Ten competition just isn't doing justice in the computers or in the polls.
The Baylor Bears continue their climb in the standings but are still stuck behind Stanford, despite the Cardinal's one-loss record.  However, they received their highest BCS ranking in school history for the second week in a row at the No. 6 spot and remain as one of the six undefeated teams in the top 10.
Baylor's numbers this season are absolutely absurd; on paper they are the best offensive team in the country, averaging 63.9 points and more than 700 yards per game, and defeating their opponents by an average margin of 48 points.  Its prolific offense has rolled through opponents this season, leading Baylor to an undefeated record heading into its bye week.  After the bye, they will go through the toughest part of their schedule with three tough match-ups against fellow Big 12 opponents — No. 10 Oklahoma, No. 15 Texas Tech and No. 18 Oklahoma State.
With three of the top five teams on a bye week, the ACC match-up between undefeated Florida State and Miami will be the game to watch this weekend.  It will be the third match up between two ACC teams ranked in the top 10 of the BCS.  The other two were No. 6 Miami vs No. 3 Virginia Tech, in 2005 and No. 2 Boston College against No. 8 Virginia Tech, in 2007.

ANNOUNCEMENTS
Want to have fun writing or editing articles about our Beloved Ducks? We have openings for just a few volunteer writers and editors and it is typically just 3-5 hours per week.
Learn more by clicking here.