Three Reasons To Be An Idyllic Duck Fan After Week One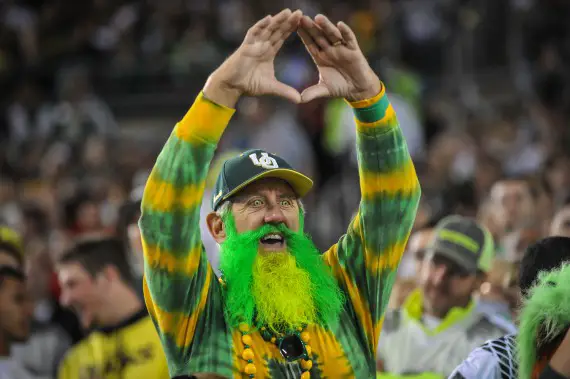 1. You (likely) don't live in South Carolina. After brutal beatdowns by a combined 48 points, both of South Carolina's major universities are suffering from opening day hangovers that won't be soon forgotten, even with copious consumption of bourbon and barbecue. If you also observed that poor Clemson fan the cameras repeatedly panned, with head in hands, play after disappointing play, it was classic SEC emotionalism. Other programs also looking up at losing records today include Wisconsin, Arkansas, Oklahoma State, Washington State (haters gonna hate and Cougars gonna coug), Boise State, and Northwestern. Oregon is 1-0 in 2014. For the Huskies math majors in the room, that's a 1.000 winning percentage. Save the gripes about the Ducks' run defense for forty-eight hours and repeat the coach speak after me: "Enjoy the wins for as long as you should and forget the losses quicker."
2. Talent, even when sloppy, rusty, or otherwise undisciplined, usually prevails. No better evidence of this principle than in the Florida State and Alabama matchups this weekend where both teams won in fashions too close for fan comfort. In my personally highlighted contest of the weekend, Washington barely escaped the Rainbow Warriors. Let that be repeated: the so-called dark horse of the PAC-12 north division by some "experts" came perilously close to losing to a team that went 1-11 in the Mountain West last year, giving up 217 yards on the ground. Let us all have a moment of silence for Washington's vaunted defensive line, then quietly repeat the name "Rainbow Warriors" while trying not to smile at the least intimidating name in collegiate athletics.
Back in Eugene, let the hand wringing begin over out of place penalties, several chunk plays given up by the defense, and concern over Ifo's over-exposure as a punt returner. From here in the middle west with equal distance to both coasts, the Ducks look as good as advertised. Every team wants to be flawless on opening day, but it simply isn't in the cards.
3. Coaching can occasionally win games between teams with comparable talent levels and even some in which they have no business competing. FBS powerhouse North Dakota State is beating Division one programs such as Minnesota, Kansas, Kansas State, and its most recent victim, bull-dozed in my own backyard, the Iowa State Cyclones. They made national news this weekend not because of the talent rich towns of Minot, Fargo and Bismark, but because they have a system in place run by great leaders. With a population remarkably similar to Portland, this state churns out national championships like natural gas pipelines.
I liked the hunger and body language from the coaches on the Oregon sideline. A year under Mark and Scott's belts is sure to reap the wisdom of experience gained this season as competition heats up.
Duck fans, as you fretfully prepare for the sure nuclear Armageddon that is the Spartan's defensive front, take a deep breath, remember the players and coaching staff who train hard every day to be better than yesterday, and thank your lucky stars you aren't in South Carolina this Labor Day weekend.
 Top Photo by Kevin Cline