The college football season is right around the corner, with many teams such as TCU, Mississippi State, Georgia and Georgia Tech already starting camp on August 1st, along with a whole slew of teams from around the country set to begin over the next few days.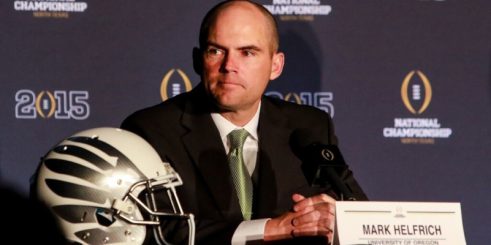 Not only does this mean the start of our favorite time of year, but early August is also when college football coaches around the FBS take their shot at predictions via the Amway Coaches' poll, which was released this past Thursday.
The top five in the poll are as follows, with the annotated amount of first place votes: Ohio State (62), TCU (1), Alabama (1), Baylor (0), and Oregon (0). As skeptical as I am of these polls, last year's ranked three of the four CFP playoff teams in the top four. The rest of the poll can be found here.
Let the speculation – and restless excitement — begin.
ACC
Coaches in the Atlantic Coast Conference expressed disdain this past week toward Notre Dame's football schedule. Many feel that Notre Dame football should be placed in the ACC, as it is for all its other sports. If they were to continue their independence, it was felt that a 13-game schedule should be instituted for them as an equalizer for the conference championship game that many playoff-hopeful teams would be forced to play.
B1G
"No. 1″ is the phrase of the week for Ohio State. Not only did they get 97% of the first place votes in the Amway preseason poll, but their recruiting class is now ranked first after moving up two spots in the ESPN 2016 Class Rankings, led by five-star defensive lineman Nick Bosa.
While we're on the subject of Ohio State finishing first, in the fifth annual cleveland.com B1G preseason football poll, the Buckeyes are a unanimous pick to win the conference. The poll closed out the 2015 media day's session. All 40 of its votes went to Ohio State with 32 of them predicting Wisconsin as the runner up again, five predicting Nebraska as the runner-up, and three predicting Minnesota.
However, Ohio State did receive some tough news this week. The Buckeyes will be without four of their star players to start off the season. Defensive lineman Joey Bosa (brother of aforementioned Nick Bosa), wide receiver Corey Smith, and H-backs Dontre Wilson and Jalin Marshall were suspended for the season opener against Virginia Tech, the only team to defeat the Buckeyes last season.
Ohio State cited the suspensions as a violation of student-athlete policy, but ESPN's Joe Schad tweets that a source revealed to him that the players were suspended for marijuana and academics.
Urban Meyer insisted at the media days that his team has shown itself to be very resilient facing the loss of key players (i.e., Braxton Miller, J.T. Barrett) and that he expects nothing different this time around.
Ohio State players were suspended for marijuana and academics per source.

— Joe Schad (@schadjoe) July 30, 2015
Big 12
As Big 12 teams are on the verge of beginning camp, I thought it would be an opportune time to look into the biggest questions going into the season. Most teams in the Big 12 have depth chart battles at the quarterback position going into camp, with the exception of TCU, the overwhelming preseason favorite to win the conference. Yet the fact that TCU ran away with the votes put a huge target on their back, and makes me even more interested to see if anyone from the rest of the pack can win this conference.
TCU, while ranked high in national polls, is not guaranteed success this year. Despite returning QB and Heisman candidate Trevone Boykin and a very strong offense, Gary Patterson has new starters for more than half of the defensive positions, including a true freshman, Mike Freeze, taking on a leadership role as the middle linebacker. A team such as Texas or Oklahoma could surely be poised for a run at the conference title.
Pac-12
As Pac-12 media days wrapped up, there was plenty to comment on, including Royce Freeman and Rodney Hardrick taking their shots at the Oregon piñata.
The media released their Pac-12 preseason poll results, with USC winning 21-of-45 votes to win the conference over the Ducks, who received 17 votes to win the conference, despite being an overwhelming pick to win the North, taking 37-of-45 votes there.
USC head coach Steve Sarkisian also managed to fire off some shots at the Ducks, saying, "We're not going to take the field in 13 different uniforms in 13 different games this fall. We're going to wear cardinal and gold. You know what we wear."
Almost all Oregon fans felt resentment toward the voting results and comments, particularly because USC has not shown anything close to dominance over the past few years. Many point out that the last two times USC was chosen first in the preseason rankings, their season tumbled to a 7-6 finish, and previously they finished in fifth place while watching Oregon take a run at the national championsip.
SEC
This past Friday, the district attorney in Baton Rouge announced that the charges against three LSU players would be dropped, one of whom was quarterback Anthony Jennings. Jennings, along with defensive back Dwayne Thomas and defensive lineman Maquedius Bain, were charged with home invasion, and Jennings had an additional charge of simple burglary. While these players are set to return to the active roster, it may have an impact on the anticipated quarterback battle between Jennings and Brandon Harris.

NEW ANNOUNCEMENTS
Have you learned more football at this website?
Do your part and contribute to the new Oregon Football Repository at FishDuck.com that we will build with enough support. It will be a gift to all Oregon fans!
Learn more by clicking here.