FishDuck.com Internship & Volunteer Opportunities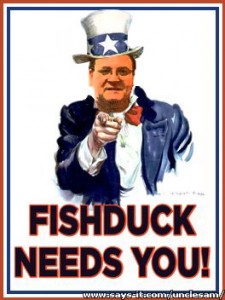 There are numerous opportunities in the Web coverage of College and Pro Sports, and we at FishDuck.com have established a unique niche which we believe has tremendous potential beyond this site. We are looking to further refine service and continue to grow as knowledgeable Oregon fans. Our reader is more discerning than most and wishes to learn as well as be entertained by the written discourse in front of him/her.  Our audience is decidedly high-brow, a bit older, and with more discretionary income than the typical visitor to a fan site.   They are what we call the "Next Level" fan and we are looking to expand our audience and want to invite you to join our team.
FishDuck.com is the hottest, fastest-growing Oregon Duck football site on the web. More than 60 volunteers help with Writing, Editing, Photography, Research, and the Social Media aspects of the site, serving visitors from more than 50 countries who read our articles up to a quarter million times every month. We seek to educate and entertain our readers with Football Analysis, Op-Ed articles, Recruiting, History, and even Humor.  We have been interviewed and cited/quoted as a source by the Wall Street Journal, and twice have been featured in prominent articles in the Online Sports Section of  The Washington Post for our contributions to fans and coaches wanting to learn about the Oregon Spread Offense.  FishDuck.com has even been accredited by Google News as an official Oregon Sports news source. Our football instructional videos have been viewed more than a Million times and we are UO Media Credentialed, sitting on Press Row in the Autzen Press Box and Matthew Knight Arena in Eugene.