Volunteer Opportunities for Non-Students & the Retired 
For those who are not current students, (which is the majority of FishDuck.com Volunteers) we have most of the same openings as students, but we especially encourage you to consider managing and mentoring the University of Oregon students who join our mentorships.  Often you have years of experience in managing that can be a great help to the site, and expertise in a field that while routine to you–is fascinating and new to the students.  Giving three to five hours a week to help UO students on an All-Volunteer website about our glorious Ducks?  What could be more fun!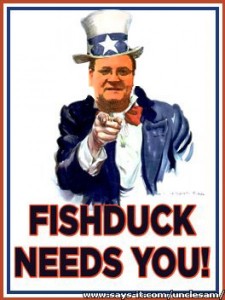 We have volunteers from those who just graduated right up to the Grizzled Ol' Coach who is in 70s! Everyone can impact on fellow passionate Oregon fans. Join us and make a difference in the careers of the students while having some fun yourself.  We love our Ducks!
Use Your Management Skills to Help Others!
If you are a retired manager but still want to use your skills on a part time basis, FishDuck.com is asking you to coordinate people and activities, in addition to mentoring others with leadership potential. These volunteer positions require about 3-5 hours a week of which is primarily during the day.  We at FishDuck.com are over 70 volunteers with a passion for Oregon sports and serving others who wish to learn more about them. Oregon Duck Football and Basketball fans from across the nation morph into Writers, Editors, Photographers, and Videographers who work together and are of all ages.  Your expertise will be used to plan content and schedule these talents, as well help guide students in these areas for their future career.  Management experience and skills are a must; knowledge a particular department is not as we will teach you the information needed. FishDuck.com strives to inform and entertain our older and professional readership, so join us!  E-mail Charles Fischer [email protected] for more of the inside scoop.
What areas are open for managing/mentoring?  (Click on titles)  We have others–just email me for updated openings to find the right match for your managing/organizing help.
Human Resources:  We have a team of UO students who are eager to learn and we wish to reach out into the community, build a strategy and a team!  Are you experienced?  Help guide the young Ducks with your expertise.
Managing Editor:  Help is needed with managing the content flow through 40 Writers & Editors.
Writing Coach & Editor:  It is rewarding to help students improve their writing skills and boost their career, as many writers at FishDuck.com go on to bigger and paying assignments from their experience. Other areas to help as a volunteer as so many on the site do?
The FishTank VideoArchive Team
The UO Football Photo-Recovery Team
FAQs about Volunteer Positions at FishDuck.com
Contact Charles Fischer at  [email protected]  and we will get more information to you.
FishDuck.com is a hot fast-growing Oregon Duck football site with more than 70 volunteers helping with Writing, Editing, Photography, Research, and the Social Media aspects of the site and serving visitors from more than 50 countries who read our articles up to a quarter million times every month. We seek to educate and entertain our readers with Football Analysis, Op-Ed articles, Recruiting, Player Profiles, History, and even Humor. We have been interviewed and cited/quoted as a source by the Wall Street Journal, and twice have been featured in prominent articles in the Online Sports Section of The Washington Post as our football instructional videos have been viewed more than a Million times by fans and coaches. FishDuck.com has even been accredited by Google News as an official Oregon Sports news source, and we are UO Media Credentialed, sitting on Press Row in the Autzen Stadium Press Box and in the Matthew Knight Basketball Arena.