What is FishDuck.com?
Welcome to an Oregon football fan website like none other, in fact there isn't anything like it anywhere in the World!   This all-volunteer website is dedicated to the education and entertainment of Oregon Duck fans everywhere.  Charles Fischer has been a veteran of Oregon football message boards/forums for over 17 years, and in the beginning FishDuck.com was simply a place to "store his stuff" as he wanted to write and create videos. Soon others wanted to share in their vision as they began to augment features to this site after asking, "Wouldn't that be cool?"  This Website is dedicated to serving a new niche' in college football, what we call the "Next-Level" fan who wants to learn a little about the sports (but not as much as a coach) and be entertained in the process.  This is a more discerning fan that takes this information and applies it to the next game to enjoy our beloved Ducks that much more.
What is FishDuck.com about? 
The Fish Tutorials videos in the FishTank VideoLibrary are meant to be timeless, as basic explanations of the Oregon Offense and Defense.  The Fish Reports are on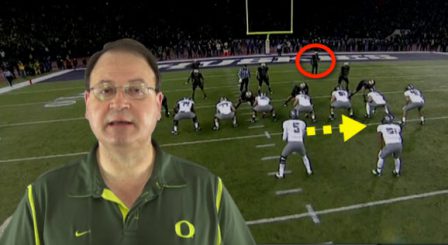 going weekly analyses coming out on Tuesday mornings of which are created by founder Charles Fischer and a team football coaches. These are timely observations and schematic analysis of games unlike anything done before we began this in August of 2011.  These analysis articles have diagrammed screenshots and actual running GIFs of the plays showing the progression of the Oregon Offense through the football season.  Last year had some DANDY developments that we wouldn't have known without the advent of High Definition and Slow Motion!  Our videos are of the highest digital quality actually exceeding what YouTube can show.  We have over 50 football instructional videos have been viewed over a Million times, with responses from coaches around the globe as our articles are read in over 50 countries on typical days.
FishDuck.com was in the Wall Street Journal? See for yourself in the article that ran in January, 2014! (and the Washington Post!)
The FishWrap are ongoing daily articles written and edited by sixty writers and editors, of which many have been professionally published and linked by major newspapers and sports websites such as ESPN Regional.  We have eight categories of articles offered to the public such as Opinion-Editorials written by the grey-beards of our team, along with Sports Reporting, Football and Basketball Recruiting, Oregon sports History, Humor, Analysis, and so much more. Check the right sidebar for a breakdown of our weekly schedule of articles and you will soon your own favorites.
FishDuck.com writers are being recognized for their journalist talent, their painstaking research, and their feelings for our beloved Ducks that transcends above the print.  Our emphasis is upon the casual fan who wishes to learn more, but coaches have become our biggest advocates for learning about Oregon sports.  We have now begun basketball and Baseball analysis during their seasons and will have a new Football analysis available year-round.  We will not have "hit or negative" articles about the players, the coaches, or the university.  We let all the media outlets handle that side as they have.
Our growth has been extraordinary as over 60 Writers and Editors combine to create articles and analysis to offer to the visitors from more than 50 countries who read our articles up between a quarter million and a half million times every month..  Picture a retail store with up to 10,000 people a day walking through it and that is the traffic to FishDuck.com on average every day!  Our numbers have grown as more Oregon fans discover the site and enjoy our Op-Ed articles, our analysis, our articles revealing Oregon's rich sports history, and even some "Duck Humor".
Our new category, Oregon Sports News, has short, quick articles that originate from Press Releases and information coming out of the Athletic Department.  Our writers also attend press conferences to gather information from their interviews of coaches and players. These entries are more words than Twitter, but not a long article, and yet the readers have the ability to comment like a forum.  This new area of rapid and easy-to-read stories is becoming a fan favorite.
We are University of Oregon Media Credentialed as we have our reporters in the Press Box at Autzen and on Press Row in Matt Court.  Our focus is telling the story of the games while providing some analysis beyond the usual vanilla reporting available, and our young reporters/writers have been linked at major newspapers and even ESPN Regional sites, which increases our exposure and enhances the careers of these sharp young writers.
Join us as a writer or reader and see if you don't love learning more about our beloved Ducks as we do!
Have you ever watched a great Oregon Highlight video—and then couldn't find it later as you can't remember the title, or don't know which e-mail had the link?  We will have the answer soon at FishDuck.com with The FishTank which will contain over 3,000 Oregon football videos!  NOBODY has a video archive like this site.  One Oregon fan told us, "FishDuck.com is a Black Hole–I go in and don't come out for two hours!"  The FishTank does that to all of us; what a wonderful feature!
As it is now…there is no other website like this.  With the way we write our articles and create the videos…the atmosphere is different as one of learning and sharing information.  If you disagree or have information to add, then do give us the links.  I HAVE changed reports/videos in the past and will continue to as I learn from all of you.  I will encourage classy fans of other teams to come learn about Oregon and share some Xs and Os about their team.  Anyone who is courteous, smart, and pleasant is welcome.
We have many more features to roll-out between now and the next football season, as we strive to become the best overall college football fan website.  Yet it is the people who come to FishDuck.com to learn and enjoy Oregon football who make it a success.  Ultimately we will be the Rolls-Royce of Football websites—not from the cool features, not from being free to you, but in the quality of membership.
"Oh how we Love to learn about our beloved Ducks!"
Fish, when it comes to old, gray, over the top Duck fans with the heart of a ten year old, you are the best thing going!  Had to put work on hold this morning, with 2 phone lines holding, my secretary trying desperately to get my attention, and a spill in the warehouse, telling all I had important work that could not wait, while I finished your report!   SACDUCK
Thanks for the great and informative videos and analysis. This discussion of Xs and Os and how the offense is designed to work is really well done. Much better stuff here than the sports media analysis ever puts out. – "iggles fan "via FishDuck.com  
FishDuck.com has been an invaluable resource for our offense, players, and staff here at Villanova.  The tutorials of Chip Kelly's offense at Oregon are the best and most accurate analysis of the Spread Offense and its philosophy, schemes, and operation out there. I look forward to his weekly analysis of the upcoming evolution of the Spread here in Philadelphia." – Brian Flinn, Receivers coach for Villanova University