What is FishDuck.com?
Welcome to an Oregon football fan website like none other, in fact there isn't anything like it anywhere in the World!
This all-volunteer website is dedicated to serving a new niche' in college football, what we call the "Next-Level" fan who wants to learn a little about Oregon football, (but not as much as a coach) and be entertained in the process.  This is a more discerning fan that takes this information and applies it to the next game to enjoy our beloved Ducks that much more.
We have a couple of current articles every week, (Mondays, Wednesdays, and sometimes Fridays) and at least one a week (on average) by Mr. FishDuck himself. These are new Analyses, Talent Evaluations of new recruits, and Opinion articles by guest coaches and sage observers of Oregon Football.
What is FishDuck.com about?
Charles Fischer wanted to learn about the Spread Offense when Oregon adopted it with Coach Mike Bellotti in 2005, but none of the media explained it for six years, so he started the site, (FishDuck.com) began consulting with coaches at different levels and made an instructional video about the Chip Kelly–Mark Helfrich Spread Offense nearly every week for a year.
After about 50 videos the Pac-12 stopped him, (another story) and the site continued to do analysis about the team with single play videos and GIFs. The videos have been viewed 1.7 million times, and even now on average—they are being viewed every minute of the day and Charles hasn't made a new video in over five years.
Our Alexa Global ranking in December, 2017 put us in the top 1% in the world for visits in a month—and we are a niche site. (this has been true for the majority of FishDuck.com's existence) FishDuck.com was in the Wall Street Journal?  See for yourself in the article that ran in January, 2014! (and the Washington Post!)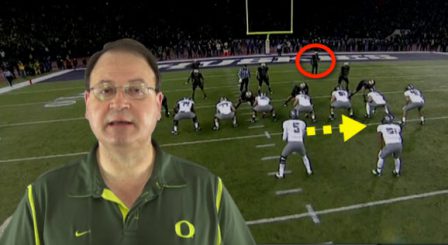 We are all-volunteers, as Fischer is an Investment Advisor by day and although the site is not designated as a non-profit … it has operated that way since we began 6.5 years ago. We just want to keep learning football—we have over 330 analysis articles about the Oregon Spread offense and the Oregon defense and we now have the "Analysis Library" available to find out more about the offenses and defenses at Oregon.
Coaches have been able to win because of the site… whether it was small high school team who had the best seasons in their history after they found the site, or the Semi-Pro team who was a .500 team until they found our site. A year later they were rated No. 1 in the country among over 2,000 teams.
Coaches come to us from across the United States and we've been contacted by coaches for Club Teams internationally in Canada, Mexico, England, Scotland, Poland, Germany, (many more),….found articles translated into tons of different languages, (the most interesting was Romanian) received emails in Portuguese from Brazil and listened really hard to the Southern drawls from coaches Louisiana and Texas. We have had coaches contribute articles to the site from Hawaii all the way to upstate New York.
We have made a permanent contribution to the sport of football; do this—Google the words, "Inside Zone Read" or "Outside Zone Read" and FishDuck.com articles are right at the top of the first page out of over six million listings. We had an article about boring Zone Blocking read over 20,000 times last year, and it was created over four years ago!
We built the site for fans, but coaches have used it for Pee-Wee football right up to through colleges. It has been a labor of love and for those who want to learn more football—FishDuck.com is a FREE site, and a good resource, thanks to all the coaches and analysts who have given their time and expertise as a volunteer.
Without intending to–FishDuck.com has become an ambassador of Oregon football to coaches and fans around the world as over 50 countries have readers visiting the site each month.
Charles is available for interviews and in this one was anointed by host as "The Godfather of Oregon Football." He has packages of classes for fans to learn what to watch for on the field or monitor.
Since we have created thousands of articles since August of 2011, we will have other new sections soon that include For the Fans, and more which feature the best of humor on the site as well. This site has been costly for the principal (Mr. FishDuck) and although it does not pay for itself from Google ads, remains free to all.
We are University of Oregon Media Credentialed as we have our reporters in the Press Box with photographers on the field at Autzen.  Our focus is telling the story of the games while providing some analysis beyond the usual vanilla reporting available, and our young reporters/writers have been linked at major newspapers and even ESPN Regional sites, which increases our exposure and enhances the careers of these sharp young writers.
We have many more features to roll-out between now and the next football season, as we strive to become a great source of Oregon Football information.  Yet it is the people who come to FishDuck.com to learn and enjoy Oregon football who make it a success.  Ultimately we will be the Rolls-Royce of Football websites—not from the cool features, not from being free to you, but in the quality of membership.
"Oh how we Love to learn about our beloved Ducks!"
Charles Fischer  (FishDuck)
Fish, when it comes to old, gray, over the top Duck fans with the heart of a ten year old, you are the best thing going!  Had to put work on hold this morning, with 2 phone lines holding, my secretary trying desperately to get my attention, and a spill in the warehouse, telling all I had important work that could not wait, while I finished your report!   SACDUCK
Thanks for the great and informative videos and analysis. This discussion of Xs and Os and how the offense is designed to work is really well done. Much better stuff here than the sports media analysis ever puts out. – "iggles fan "via FishDuck.com  
FishDuck.com has been an invaluable resource for our offense, players, and staff here at Villanova.  The tutorials of Chip Kelly's offense at Oregon are the best and most accurate analysis of the Spread Offense and its philosophy, schemes, and operation out there. I look forward to his weekly analysis of the upcoming evolution of the Spread here in Philadelphia." – Brian Flinn, Receivers coach for Villanova University