For Oregon fans and the staff at FishDuck.com—this has been an amazing football season. We lost two games, yet remain one the nations top five teams; and for us long term fans an incredible third BCS game in a row? We began to closely analyze the Oregon Offense this year and were delighted to have all the surprises from Chip that have been wonderfully entertaining.
We have learned how so much of the Oregon Spread is predicated upon what the defense gives us, and how we "read" defenders on almost every play. This Pac-12 Championship game gave us numerous examples of that and could be epitome of a complete "READ" game from Oregon and Darron Thomas. We examine with pride at the success of a few of so many READ plays in this game and yet with regret at having the season come to an end….
"Oh how we love to learn about our beloved Ducks!"
Charles Fischer  (FishDuck)
Oregon Football Analyst for FishDuck.com
Eugene, Oregon
Top Photo from FishDuck.com Video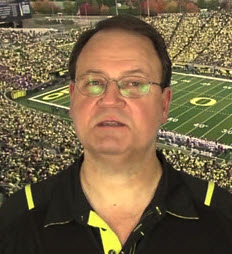 Charles Fischer has been an intense fan of the Ducks, a season ticket holder at Autzen Stadium for 34 years and has written reports on football boards for over 23 years. Known as "FishDuck" on those boards, he is acknowledged for providing intense detail in his scrimmage reports and in his Xs and Os play analyses. He and his wife Lois, have a daughter Christine, reside in Eugene Oregon, where he was a Financial Advisor for 36 years and now focuses full-time on Charitable Planned Giving Workshops for churches and non-profit organizations.
He does not profess to be a coach or analyst, but simply a "hack" that enjoys sharing what he has learned and invites others to correct or add to this body of Oregon Football! See More…
Discuss Our Beloved Ducks in the Comments on ANY DAY
We don't need an article published today to discuss the events of Oregon Sports. Jump in anytime to post your thoughts and we can keep the conversation going.
There will be quite a bit to discuss over the next year!
Our rules have not changed and can be summarized to this: 1) be polite and respectful, 2) keep it clean, and 3) no reference of any kind to politics. Easy-peasy!
Articles will be published on: Sunday-Monday-Wednesday-Friday.