Oregon is well known for the Hurry Up, No Huddle Offense and the following plays are well known as touchdowns, but for different reasons than I credit.  Rarely would any analyst look at the play before the touchdown to explain the six points, and I would assert that the major element in all three is the sparse time between plays, which gives us a tremendous advantage.  Let's take a look at my favorites of 2010-2011 and why….
We run a typical Inside Zone Read on first down (Above) for about a four-yard gain against USC in 2010.  There is only 17 seconds between the beginning of the first down and the beginning of the second down and that includes the time of the play itself!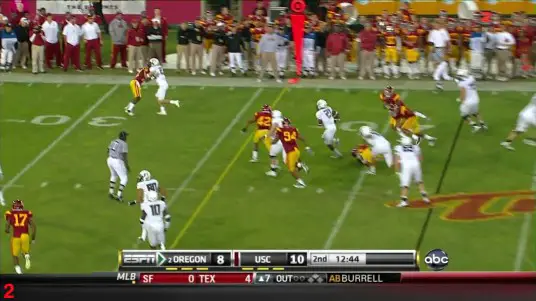 USC is NOT ready (Above) and not lined up correctly for second down and just like that…LaMichael is gone!
At the snap the USC defense (Above) recognizes that we're running an Outside Zone Read to their left, so the red arrows show us how the Trojans are moving outside to cut off the perimeter, so much that they over-react outside.  We see Nick Cody (The Yellow Arrow) make a block on their Defensive Tackle and then their LB to give LaMichael a superb running lane for the touchdown!  All this set up by the rapid No-Huddle!
Against Stanford this year we try to make the first down on 3rd and ten, (Above) as Darron Thomas passes to Tuinei and we come up two yards short and Chip quickly goes for the touchdown on 4th down.
Look how Stanford is moving around and not ready for the play as the ball is being snapped on 4th down!  They are not lined up right and are trying to get their defense set as we begin!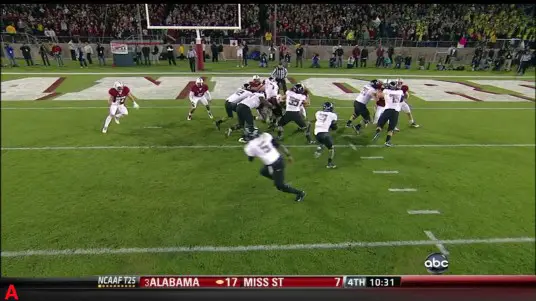 It's evident (Above) that Stanford was ready for a Triple Option outside, but was not prepared for a simple Inside Zone Read to our weakside.  That is a big hole created by our Offensive Line!
LaMichael James celebrates the easy touchdown with a primal scream shared by the thousands of Oregon fans at the game.  We love it!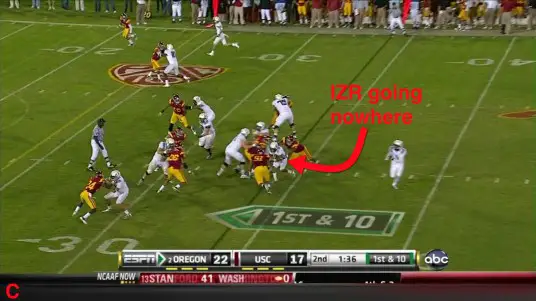 It's first down again with an Inside Zone Read that is stuffed (Above) by the Trojans for a short gain in 2010 again.  I'm not picking on USC or saying that these are the only No-Huddle plays, but simply that they are my favorites.  We only go 22 seconds between starting the first and second play (including the time of the play on first down) and thus far USC has contained LaMichael to only 65 yards rushing as the Trojans are committed to stopping him.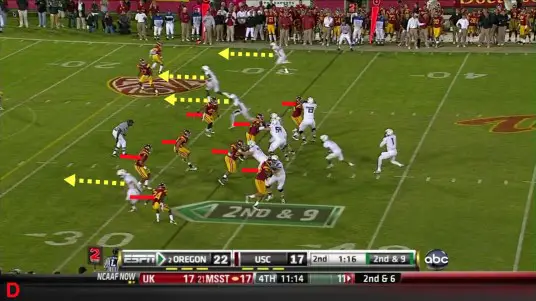 The play starts out like an Inside Zone Read again and look how there are EIGHT USC defenders (Above) with the red lines on them in the box within a few yards of the LOS, while we're running a Play-action pass sending four receivers vertical against three Trojan defensive backs!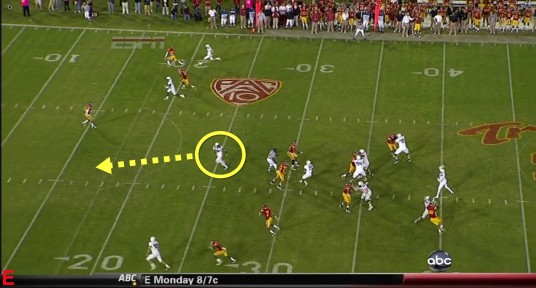 The Trojans have so focused upon stopping LMJ, that after an Inside Zone Read play with another forming—they instinctively lean inside, which is the brief moment needed for a WR, Tuinei, to get wide open over the middle.  That's a touchdown baby!
You could say that in the first example it was the superb blocking, or in this last play it was the play-action pass execution or the play call itself.  But the additional component that brings success to each play is the No Huddle, which brings confusion, or at best a standard defense against a well blocked play.  It puts the defense at such a disadvantage that good blocking or a good fake in the play action pass can yield above-average results from our typical Spread Offense plays.
As an avid Oregon fan these are my favorites and I welcome yours as well in The FishBowl Forum at FishDuck.com!
Oh how we love to learn about our beloved Ducks!
Charles Fischer  (FishDuck)
Oregon Football Analyst for FishDuck.com
Eugene, Oregon
Top Photo from FishDuck.com Video
Visit our Sister Site, the new Our Beloved Ducks Forum!
This new forum that is unlike anything you have ever seen between our civilized discussion, (NO TROLLS ALLOWED) complete directions available for easy usage and the delivery of all Oregon Sports News.  (That last part is a gradual transition up to Spring Football)
Go to the forum where we delve into today's article and so many more topics and the nuances within them over there.
We have a topic post begun over at the forum for today's article; it is a free site and offers more opportunity for the exchange of opinions on all the Oregon Sports subjects of the day. (And there are some very cool features!)
An introduction article about the new forum is right here.