He may only be sophomore, but if there is one thing Robin Cambier has proven he can do at the collegiate level with his racket and on-court intelligence, it's that he can play with, or against, the best in the world.
I  had the privilege  to talk with Cambier recently and there are three things that are clear about him that have nothing to do with tennis, but at the same time give him the make-up for why he is so talented and a proven winner when it comes to tennis. Cambier, with unmistakable curly hair, is nice and polite, has an "others before self" attitude and most importantly he is all-humble all the time. Cambier's unpretentious and grateful demeanor shines brightest when he steps out onto the court.
Robin Cambier came to Eugene all the way from Brussels, Belgium. After talking with Cambier it was a foregone conclusion that the up-and-coming tennis star was inevitably going to be involved in sports in some capacity growing up, due to his deep, athletic, family roots. Cambier told me that his mother Sandra used to be a talented figure skater and his father Arun played Rugby for the Belgium national team. You may not have known that Cambier has a younger sister (14 months younger), but by this point, you've probably guessed it, she's an athlete too. Zoe Cambier competes in the horse-riding circuit. As Cambier himself put it, they're "a sporty family."
However, Robin Cambier told me he remembers in detail the exact day he discovered the game of tennis and hasn't put the racket down ever since. "I started playing tennis the day of my sixth birthday in Tennisclub SDI near Brussels because one of my neighbors played there."
"I did a summer camp there and really liked the sport and soon got recruited for the competition group by Alexander Katsnelson and was coached for 9 years by Katsnelson" Cambier said. There was no question that the Russian tennis legend Alexander Katsnelson found a special player in Cambier. Less than two full years later, Cambier entered his first competitive tournament at the age of eight. As Cambier grew older, he and his coaches came to the realization that he was improving and maturing much faster than most. "I always was pretty high in juniors in Belgium and traveled a little around Europe and got up to 290 in the International Juniors Ranking."
As Cambier and all those around him knew, he was going to be one of those names to remember, all he needed was time. As a result of the time and hard work the coaches and Cambier put in, the phone calls from prestigious tennis legends just kept coming. "Just before coming to Oregon I was working with two great coaches: Kris Goossens (ex-top-90 of the world – ATP rankings) and Cedric Melot (top-25 ranked player in Belgium)."

There is no mistake about it, with the training that he received growing up from legendary players; Cambier could have entered the professional circuit immediately. However, that remarkable ability Cambier possesses to be extremely humble, stirred him in the collegiate direction.
Something all Duck fans should thank him for.
Cambier told me that he was about five minutes away from becoming a member of the Nevada Wolf Pack tennis team, when yet another phone call came his way. On one end, Robin Cambier was wondering who was calling to interrupt his decision-making process. On the other end was Ducks tennis coach Nils Schyllander hoping he wasn't too late to the recruiting party.
He wasn't.
As Cambier told me, "Coach Schyllander called me and said that he was coming to see me play in Belgium on Friday. So he was flying over to see me play, within the two next days. I was impressed. He saw me play, I played good during his visit and on Sunday before he left, he asked me, 'Robin, you in?' and I said YES!." Cambier continued," the fact is that I never took a visit to UO, didn't know where I was going actually, never heard of Eugene or Oregon before, but I trusted Coach."
One thing that Cambier made clear to me was that not only did he make the right college choice; but that he absolutely loves the city and university he plays for. A city and university he didn't even know existed before that phone call. "It's wonderful; I love this place, this university, this team and the coaches! I think it's the best where I could've ended up! I love it here, the university is great, the athletic facilities are amazing, athletes are like a big family and I get to meet new and exciting people. That's awesome! I really love it here!"
The most enjoyable part of my conversation with Cambier came when I asked one simple question; Why tennis? He seemed to light up and turn back into that six year old boy who discovered the game for the first time. "That's a fun question. I actually like a lot of sports. I like to go to so many sporting events here, it's cool! What I like in sports is the show/entertainment. So, I like the entertainment/show part of tennis, the crazy shots and stuff, but I also love the physical and mental battle, and I think that here at Oregon, I got way stronger in all of these aspects!" he said.

Cambier thinks that Ducks tennis has an ingredient that other schools don't quite have. "What I enjoy the most on a court here is the energy, playing with the crowd, playing for a team, representing the UO, and then my favorite part is the mental and physical battle with the opponent!"
Along with the qualities mentioned above, Cambier is also genuine. He is genuine in the sense that he aspires to be just like his hometown heroes back in Europe. "My idol when I was young was Marat Safin (Russian tennis star). He is such a talented player, mentally crazy, but such a great player. I took good and bad things from him."
"My second idol was Xavier Malisse (Belgian), also a very talented player with a crazy mental. These two players (Safin and Malisse) are my favorites since I'm young" Cambier continued.
"The players that I really like since I got a little older, are without any doubts Roger Federer, because of his greatness and class on and off the court, and Gael Monfils (France) and James Blake (USA) for their athleticism."
What is amazing about Cambier is that he could probably play and keep up with the idols he has mentioned above but he talks about them with a great deal of respect and admiration nonetheless. Another admirable quality he displays is his awareness of how much the game of tennis means to the area of Europe that he grew up in and how proud of that support and enthusiasm he is. It is great to see how different cultures view and idolize different sports and Cambier could not make that more evident with the pure energy in which he talked about the European stars and the European style of play.
Since Cambier has made such a long and incredible journey from a tennis mecca part of the world, to a country that doesn't quite share his enthusiasm about his sport; I wanted to know who his biggest local tennis influences have been since arriving from Brussels.
He didn't even hesitate. The first words out of his mouth were his teammate and "American brother", Alex Rovello. If you didn't read my article on Rovello, just know that he's is the ideal tennis player in Eugene and Oregon to look up to. "We were roommates last year, we are both from the same grade, we played doubles together last year, and I can talk with him about anything. We talk a lot, every day and it's really fun." In addition to teammates, who better to look up to than your coaches? "I also can talk easily with the coaches Nils Schyllander and Jonas Piibor. They consider me a little bit as their son and take good care of me and I really can talk about anything with them too. I feel like we have a great team, really close together and that's really fun!"
In case you were unaware, Cambier was named Pac-12 Player of the Week for March 5-11. He extended his spring singles record to 12-0 with the defeat of Weber State's Peter Ramstromer Pello, 6-0, 6-1. In doubles, Cambier and junior Jeff Mullen paired up for their 11th win of the spring dual season, downing Simon Unger and Oliver Good, 8-2. The No. 1 doubles team improved to 20-1 on the season, setting a new Oregon record for doubles wins in a season. The record had previously been set by Mike Goldstein and John DeVorss during the 1994-95 season, when they went 19-6.

Cambier, playing as the No. 3 singles player, continued his remarkable season on March 16 against San Francisco by defeating William Schumacher 6-3, 6-7 (10-8), 6-3 to extend his spring singles record to 13-0.
I have always wanted to ask a team or athlete what their mindset is before a game when they are undefeated. Afraid of being a jinx, I asked him quietly. Again, he didn't hesitate. "I like to feel good physically, listen to some music, I prepare my bag and rackets, make sure that I have everything I need do that once on the court I can focus on playing tennis and nothing else. But before a match, when I'm in the locker room, I think about my family back home, my friends back home and my friends here, I think about the support that they give me and that gives me confidence for my match."
It was surprising to hear that an athlete who has yet to lose in spring singles play, is thinking about others (his family), instead of himself just before he takes the court.
But that's Robin Cambier. So it's not that surprising.
"It isn't always easy to play without having your family seeing you play, but last month my mother and sister actually visited me for 10 days (their first time ever in Eugene) so that was fun. Also, I'm really happy to have great friends here that come to support me and the whole team when we play" Cambier admits.
He also said that he also thinks about that phone call he got from Schyllander a few years ago. "I think about the great opportunity I have being an UO Student-Athlete and how much that means to me. Thinking about this gives me the fire to compete and gives me the fire to represent the O and to fight for the team and for all the people around me that support us all the time."
In America, the big phrase we use and advertise is "The American Dream." However, it gets used so much that it has lost its original meaning and purpose. That is how I felt up until I spoke to Cambier. "Coming to the US was my dream but I had to leave some things and people for that, because I'm so far from home, almost 6000 miles (like for examples: relationship, friends, family), but luckily I can communicate with friends and family through Skype and Facebook." In talking with Cambier I realized that there are people in Europe that still believe in "The Dream," and are striving to come here and attempt to experience it and he is one of them. He has worked hard and made crucial sacrifices to get here. More importantly, he fights just as hard on the tennis court as he does in the classroom by maintaining a 3.4 GPA in order to stay here and make a significant impact on American tennis.
Talking to Cambier, a word he used multiple times was the word "love." He loves his family, being a student-athlete, ALL sports, Oregon, and he loves that Nils Schyllander called him and said "I want to come almost 6,000 miles to watch you play."
While there are more popular Duck sports, it is time that all Duck fans show some love and embrace Ducks tennis. Most importantly, it's time to show love for Robin Cambier, for how much he loves to perform his remarkable talent in a Duck uniform.
Eugene, Oregon, the place Robin Cambier once thought could have been a fictional town from a fairytale, is now the place he calls home. Welcome home Robin.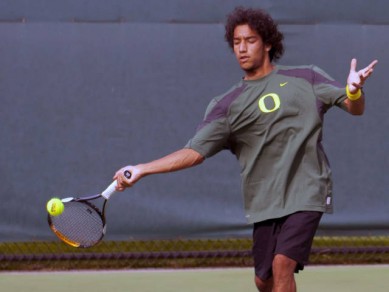 Want to Watch Oregon Games on your computer?
If you do not get all the channels that have the Oregon Football games, or simply want to be able to watch the game over again as you don't have the space in the DVR to hold all the games?
Contact me by email: charles@fishduck.com and I can help.  We have fans across the nation and internationally watching the games 24/7/365 and I wish that for everyone.  Charles Fischer