In order for the Ducks to get off to a successful start to the 2012-2013 season, they will have to start by putting the past where it belongs…in the past. The 2011-2012 season for Oregon was a substandard one and they look to turn the damp, down season from a year ago around. Getting off to a good start begins with a bright and aggressive spring season performance, which opens on April 14 with the Civil War in Corvallis followed by a game against Trinity-Western in Corvallis the following day. The team will finish the spring season in Portland with games against Saint Martin's, Concordia, Portland and Portland State.
Here is the link to the Ducks full spring schedule.
http://www.goducks.com/SportSelect.dbml?&DB_OEM_ID=500&SPID=237&SPSID=4314
Last year the Ducks finished tenth in the Pac-12, 8-9-3 overall and 3-6-2 in conference play. For the Ducks to be prosperous this spring and carry the wins over into the fall schedule, they will have to improve their offensive attack. Last season Oregon was ranked last in the conference in shots-on-goal, eleventh in points, goals, and points per game. They also ranked tenth in assists. There was no Duck player ranked in the Pac-12's top ten in any offensive category .
Defense was the better part of the Ducks game a year ago. They ranked seventh in the conference in goals allowed and tenth in offside calls. The cornerstone for the Ducks soccer program is in the goalkeepers, and it looks to stay that way for years to come.

Three-time Olympic medal winning Australian swimmer Dawn Fraser once said, "The Olympics remain the most compelling search for excellence that exists in sport, and maybe in life itself."
Ducks sophomore goalkeeper Abby Steele recently found out firsthand that the statement by Fraser is 100% accurate. While she wears the number zero on her jersey, Steele's play and personality is anything but a zero. She was one of three goalkeepers invited to the twenty and under USA National Team camp in April of 2011, in addition to the eighteen and under USA Women's National Team in 2010.
This month, Steele found out that in addition to starting between the posts for the Ducks, she was one of the top thirty soccer stars in the country to be invited to participate in the U.S. twenty and under Women's National Team camp for the second year in a row. Practices began last week in Chula Vista, California.
To put into perspective what a tremendous honor this is for the Oregon goalkeeper, keep in mind that of all collegiate goalkeepers in the entire United States, only four annually are invited to this camp. Steele made that list.
Now are you more convinced this year's Ducks team can put last year behind them?
Prior to coming to Eugene, the Santa Rosa, CA native was ranked the tenth best overall recruit in the state of California regardless of position. Abby Steele led her team to unprecedented state, regional, and national success, and as a result her club team won the Cal North State Cup championship twice. They were selected as an inaugural member of the Elite Club National League in addition to being tabbed ECNL Challenge A-League Champions and the ECNL National Champions in 2010.

Her talents flawlessly carried over to the collegiate level.
Her freshman year as a Duck was simply remarkable, and now as a sophomore Steele has proven that she is beyond qualified to lead the team into 2012. As a freshman, Steele recorded playing time in 19 of the Ducks' 20-games last season. She earned seventy-five saves for the season and as a result, is ranked fourth in Ducks history for the individual single-season record of goals allowed with only twenty-five in nineteen games, which resulted in a 1.48 goals allowed average, the 7th best average in Ducks single-season history.
Now is it clearer why the U.S. National Team wanted her over hundreds of other college goalkeepers?
By the end of her freshman campaign, Steele ranked fifth in the Pac-12 in saves per game with 75, and fourth in saves per game average at 3.95. The young star recorded a total of 1,514 minutes for the season and faced a total of 191 goals. As a freshman, those stats are quite a rarity.

With stats like that, it's a good thing the national team can't pull her away permanently. The Ducks will need every one of those 1,514+ minutes from her this season if they plan to write a new chapter for the Ducks soccer program.
Though the soccer club had a down 2011 year, head coach Tara Erickson has been committed to turning the Ducks into a contender. In order to accomplish that, it generally starts with solid off-season signings. Erickson is entering her eighth season as head coach at Oregon, and retains 22 players from the 2011 team. This year's recruiting class looks to be one of the best in recent years for Duck soccer, a class that will help to generate more offensive production, something they so desperately need.
Coach Erickson and her staff added seven new Ducks to the squad, National Letters of Intent being signed last Wednesday in conjunction with National Signing Day. The new Ducks join the rest of the team on campus in the fall. The newcomers are:
Maryn Beutler-Forward-Bend Senior High School
Dana Connors-Goalkeeper-Palos Verdes High School (Calif.)
Kristen Parr-Forward/Midfielder-Summit High School (Bend, Ore.)
Mariah Powers-Young-Defender/Forward-Cosumnes Oaks High School (Calif.)
Brooke Strawn-Forward/Midfielder-Roseburg High School
Kira Wagoner-Midfielder/Forward-Franklin High School (Calif.)
 Cara Wegner-Midfielder/Forward-Henry M. Jackson High School (Everett, WA).
What makes these seven players a perfect fit for the Ducks is that a good chunk of them have actually already played together on club teams. In fact, of the seven athletes, four of the signees hail from the same club team. Erickson absolutely loves this group because other than being familiar with one another, six of the seven players (Connors being a goalkeeper) all bring a strict offensive concentration, the key area Oregon must improve to compete on par with the top teams in the Pac-12. More importantly, five of the seven (excluding Connors and Beutler) can play multiple positions, which gives the Ducks more room for versatility and depth.

However, Coach Erickson was not done re-tooling this year's team. She went out and brought new assistant coach Paul Karver to Eugene. The Portland native comes to the Ducks after spending the last two seasons at UNLV, where he was the first assistant to second-year head coach Jennifer Klein. Karver contributed to the Rebel's program in training sessions and game planning that led to the best start in program history and secured an appearance in the MWC Semifinals during the 2010 season. His other primary coaching experience is in helping make goalkeepers better.
If Abby Steele thought there was no possible way to get better, just wait until she gets to display the lessons learned under the tutelage of Coach Karver.
Other than helping with game plans and goalkeeping, another thing Karver looks to do with this Oregon team is help coach Erickson turn the negative morale and horrible memories of last season around. Karver has helped do that everywhere he has been, including UNLV, University of Redlands, MidState Soccer Club in Decatur Ill, Tualatin Hills United Soccer Club and Illinois ODP. Even as a collegiate player at Creighton and Redlands, Karver was helping others improve their game before his own.
Just the type of positive attitude and morale the Ducks need to make this season a memorable one.
Every team is committed to winning, but not all of them make the sacrifices and moves necessary to achieve it. In eight seasons coaching Ducks soccer, few of those eight years have been impressive ones for Tara Erickson. Last season was one of those forgettable years, where the Ducks saw themselves near the bottom of the Pac-12 Conference and the bottom of most offensive categories.

It would have been easy for Coach Erickson to throw her arms in the air and say that the team isn't fixable. However, that's not who Tara Erickson is; if it was, I doubt she would be the head coach at one of the top athletics driven universities in the country. This off-season, it appears she took notes on everything that hasn't worked and instead of forcing a working strategy; she simply looked at her team and decided that it's not about winning that makes great teams, it's about growing as a team that makes a successful program. If a team grows together first, the wins will follow.
In this respect Coach Erickson emulates a legend at Oregon who also took time to rebuild the program, molding it over time into a championship program from the lowest depths: former Oregon Football Coach Rich Brooks. The dividend of years of work under Brooks continue to pay off, and if Coach Erickson continues on the path set out so too could Oregon soccer rise to the highest of levels over time.
It appears that Erickson has realized that what she and her staff were doing in previous seasons wasn't working. The best coaches are the ones that admit when they need help and or need a new perspective and that is exactly what coach Erickson did. As a result, she brought in solid recruits and Coach Paul Karver to help change the culture of the program, and he certainly has thus far.
A Ducks soccer program that has been down in wins and offensive production had to make changes. As a result, the Ducks coaches have rebuilt the program from the ground up in less than twelve months. They've brought in talented recruits and a coach to help make star goalkeeper Abby Steele and the offense a cohesive unit.
A new spring season with uncertain expectations begins in four days. With a veteran team that includes freshman phenoms, the best goalkeeper in the country, new coaching philosophy and a positive outlook; the only place left for the new-look Ducks soccer program to go…is up.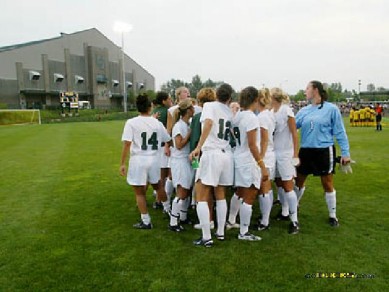 These are articles where the writer just had a few, or for some reason did not want their name on it any longer–so we assigned it to "staff." We are grateful to all the writers who contributed to the site through these articles.
A Clean Site … no Ads!
With the transition to the new format on the site to better serve mobile users–the ads would have been pushed to the bottom and cease to become a relevant revenue source.  So we don't have any!
This site is now GUARANTEED TROLL-FREE and AD-FREE, which makes it the cleanest site out there! Do donate a few bucks when you can, as it is so nice to not have the distracting ads present.